Six cars not too much for Ex-presidents- Austin Gameh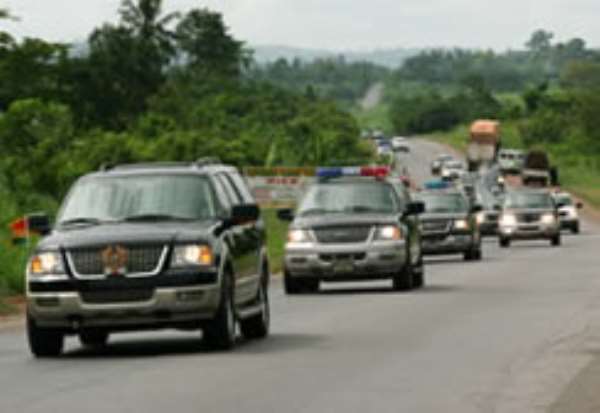 A consultant to the Chinery Hesse committee on emoluments for ex-presidents has hit back at critics and called for more education by the National Commission on Civic Education.
According to Mr. Austin Gameh, most of the privileges contained in the report are already provided for by the 1992 constitution for which reason the criticisms cannot be valid.
A huge public outcry greeted the report which recommended two houses to be built for the ex-president at a place of his choice, ex-gratia award equivalent to 12 months consolidated salary for each full year of service and other accompanying privileges.
Describing the criticisms as "interesting views," Mr. Gameh explains the report was well within the confines of the constitution and was a product of a comprehensive research on existing documents, including the Green Street report.
"Article 68 of the constitution clearly states what should be given to former presidents, of course, taking into consideration related practices elsewhere." Mr. Gameh told Joy News' Evans Mensah on Monday.
Mr Gameh further argued the committee duly considered the state of the economy and the productivity level of the country before making its recommendation.
He explained the committee's report was only a recommendation, subject to parliamentary approval.
The fourth parliament of the fourth republic indeed approved the report before it rose on January 6, 2009.
Asked if the benefits recommended in the report were not astronomical, Mr. Gameh said "I think former presidents having six cars is not too much because the former president can have two visitors, I mean foreign visitors at the same time. He travels with security, some of them would have to go ahead of him," adding, other people have more than six cars in their homes in the country.
He however noted the present parliament is free to initiate steps to review the reports if it thinks the benefits are on a high side.
But Mr. Ato Conduah a management consultant says the benefits are astronomical.
Even though the idea of rewarding our ex-presidents is not bad, he argued the benefits should be within the strength of the economy.
Listen to excerpts of the interview with Mr. Gameh in the attached audio.
Story by Nathan Gadugah