Who is an NPP "Functionary"?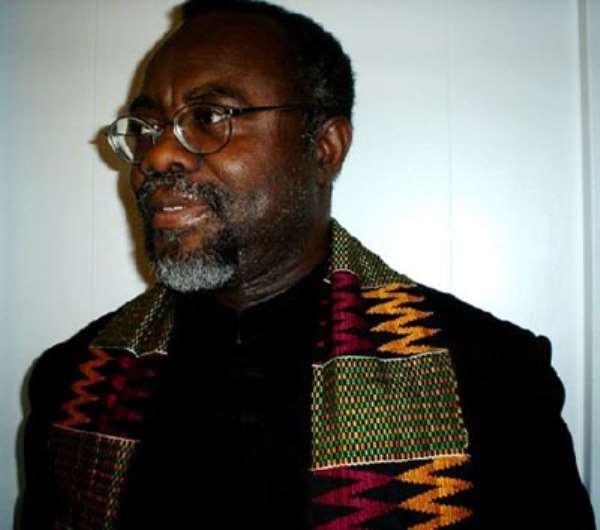 I just finished reading an article published in the Ghanaweb.com edition of Jan. 16, 2009 captioned "The NPP Still 'Doesn't Get It.'" The article is signed by an obviously dyed-in-the-wool sympathizer or an aficionado of the Rawlings-chaperoned National Democratic Congress (NDC), who also claims to have studiously followed the political activities of the New Patriotic Party (NPP) from its embryonic stages in the Asante regional capital of Kumasi. I also lived and schooled in Kumasi, having also served as a regular poet at Anokyekrom of the Ghana National Cultural Center; but I departed Kumasi for the United States nearly a decade before the NPP came into official existence.
The article, written by a Dr. Michael J. K. Bokor, is multi-pronged and raises several interesting, even if largely vapid and pedestrian, questions in a patently imperious and patronizing manner. My concern here, though, regards the writer's description of me as one of the "party's [i.e. NPP's] foul-mouthed writers" and also "a hireling" and "a functionary," without logically, scholastically and forensically providing a single evidence in support of his accusations. I guess that is the NDC way of demonizing its perceived ideological opponents, in hopes of permanently undermining their credibility, thereby effectively silencing them.
And here, I must also add the fact that another pro-NDC writer by the name of Ekua Kwansema – who also claims to be a Fante woman warrior, whatever that means – has also gone on record accusing me of having been paid huge sums of money by the NPP to "function" as its propagandist ( See "Calling Time Out for Kwame Okoampa-Ahoofe" Modernghana.com 1/7/09; see also the NDC official website). Ms. Kwansema further claims the NDC to be in possession of bank statements, account numbers and other criminally culpable transactional records linking me to some questionable dealings involving either the appropriation of public or private funds vis-à-vis a purported relationship that I have with the New Patriotic Party.
Needless to say, I am patiently waiting to have my day in court. And my accuser had better be warned that failure to produce forensic evidence to the foregoing effect, may well lead to her, the NDC and the Atta-Mills government being sued in an appropriate court of judicature in the near future. For now, I am engaged in the process of retaining the services of attorneys in Accra.
You see, the P/NDC has perfected the criminally vicious art of tagging their perceived ideological opponents with fabricated misdeeds and then either getting them summarily and physically liquidated or their hard-earned image and reputation permanently and irreparably tarnished. Dr. Bokor had better supply his readers with the evidentiary basis for tagging this writer "an NPP functionary" or promptly apologize. Else, he ought to be fully prepared to have his credibility resoundingly impugned.
Indeed, what makes his article, presumptuously captioned "The NPP Still 'Doesn't Get It'" abjectly risible and downright ludicrous is the woeful failure or omission, on the part of the writer, to rationally explain to his audience, for example, why President Nkrumah, the man he claims to have been relatively far better attuned to the sentiments and sensibilities of the electoral grassroots, never garnered more than 10% of the votes in the Volta Region, whereas the supposedly elitist Dr. J. B. Danquah, alleged to be pathologically out of touch with ordinary Ghanaians, consistently trounced his former protégé and later arch-nemesis in the Volta Region by receiving upwards of 80% of the votes.
In sum, stringing together a series of ill-informed historical references is no viable substitute, or alternative, for sound and meticulous scholarship. Time does not permit me to delve into the details of the factoids paraded by Dr. Bokor in the name of critical analysis. Suffice it to observe, however, even if just tangentially, that Dr. Bokor does quite a fine job in forcefully, albeit vacuously, justifying the P/NDC's glaringly unsavory history of unprovoked witch-hunting of its perceived and unilaterally declared political opponents and enemies, largely hardworking and resourceful Ghanaians. And he would be better off sticking to that line of anti-Akan propaganda, than presuming to be singularly in the know about what course of ideological pursuit is ideal for guaranteeing the good fortune of the NPP. What chutzpah!
*Kwame Okoampa-Ahoofe, Jr., Ph.D., Associate Professor of English, Journalism and Creative Writing at Nassau Community College of the State University of New York, Garden. He is the author of "Ghanaian Politics Today" (Atumpan Publications/lulu.com, 2008). E-mail: [email protected]