Car Snatchers On The Loose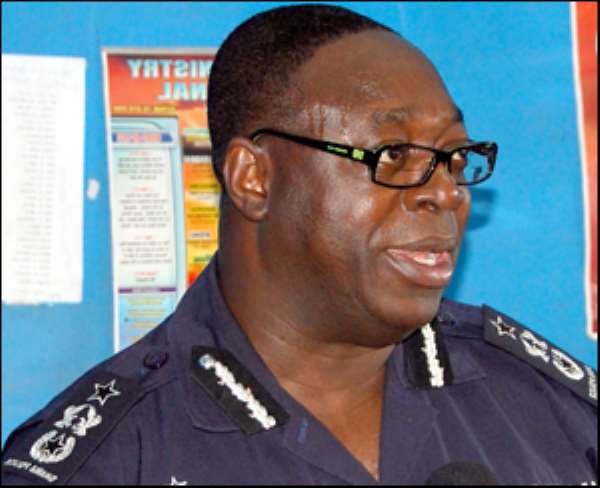 P.K. Acheampong - IGP At a time when National Democratic Congress (NDC) hoodlums and some trigger-happy police officials are moving around town on their car-seizing agenda, security information reaching the media indicate that gangs of armed robbers are also on the loose snatching cars like their political compatriots.
The situation, which is giving officials great deal of concern, has prompted the police to urge members of the public to be wary of unknown people loitering in their vicinities.
The security agencies have further cautioned the public against giving 'lifts' to people they do not know or picking passengers at night, especially from some night pubs to unknown places.
Speaking at a press briefing on the crime rate in the Greater Accra Region, the Deputy Director of the Regional Police Command, Assistant Commissioner of Police (ACP) Bright Oduro said a search had so far been mounted to track down a three-man gang that had been snatching 4-wheel drives, particularly Toyota Rav 4 and VW Touareg cars.
He said while the gang, on December 9, 2008, snatched a VW Touareg from the home of one Madam Joyce Boateng, another car, belonging to one Alex Omar, was stolen on January 12, 2009.
According to him, in the first instance, Madam Boateng packed her Touareg with registration number GC 2138 Z at her Tema Community 18 residence when she was attacked.
After raiding the house, the gang then demanded the keys to the car, after which they shot her in the leg before driving off.
ACP Oduro said in the second instance, Mr. Omar was driving around Adenta in his VW Touareg (GW 7789 Z) when it was taken at gun-point.
He said the robbers first drove him to the University of Ghana Farms near Maadzor, before they pushed him out and sped off.
Interestingly, the robbers, who were driving towards the Volta Region, were compelled to abandon the car at Aboasa, near Juapong because of the unique features in the car which they could not handle.
The police boss revealed that 131 cases of car-jacking were recorded in the region in 2008 as against 146 the previous year.
By Bennett Akuaku