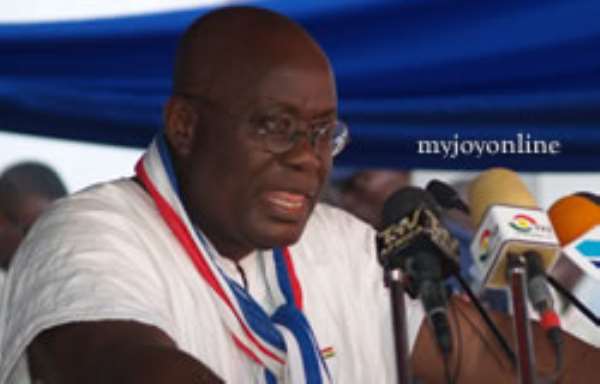 The flag-bearer of the New Patriotic Party (NPP) in the 2008 presidential elections, Nana Addo Dankwa Akufo-Addo, has assured the teeming supporters of the party they are not shaken by the defeat inflicted on it by the National Democratic Congress (NDC), and. that come 2012, the NPP will be back in power.
"Where we are now is not the limit, the sky is the limit. The future of this country lies in the hands of the NPP. Therefore, remain united and be steadfast the party continues to move forward," Nana Akufo-Addo advised.
Nana Akufo-Addo, who was accompanied on the trip by some leading members of tire party, including Jake Obetsebi Lamptey, Mr Yaw Osafo Maafo, Boakye Agyarko, Arthur Kenlledy and Mustapha Abdul-Hamid, his spokesperson, addressed a large crowd of party faithfuls at the Assembly Hall of the Wa Senior High School in Wa.
He advised supporters of the party to be wary of the people who could come from the opposing political parties to sow seeds of disunity among them. He thanked the people of the Upper West Region for their unflinching support for the NPP, even in the face of defeat, and urged them to keep up the spirit.
On the alleged harassment of NPP supporters by members of the NDC throughout the country, the flag-bearer called on the leadership of the NDC to bring those people to order.
"Politics is about choice, it is not about belonging to a party of one's choice. We must, therefore, see ourselves as Ghanaians first in all that we do," Nana Akufo-Addo indicated.

Mr Boakye Agyarko, for his part, reminded the supporters that the campaign for wresting power from the NDC in the year 2012 starts now.

He said the NPP would ask the NDC to fulfill its campaign promises, which he said included reduction in fuel prices within the first 100 days in office as well as reduction in electricity tariffs.
The Communications Director of the NPP in the 2008 Elections, Dr Kobina Arthur Kennedy, expressed concern about the unprofessionalism on the part of some radio stations across the country, which he said, were doing all they could to divide the country.
Earlier, the NPP flag-bearer was welcome by ecstatic party supporters who sang and danced amidst motorcycle displays. They also carried placards, some of which read, "The NPP spirit is still on", "Nana all the way" and "With God, all things are possible".