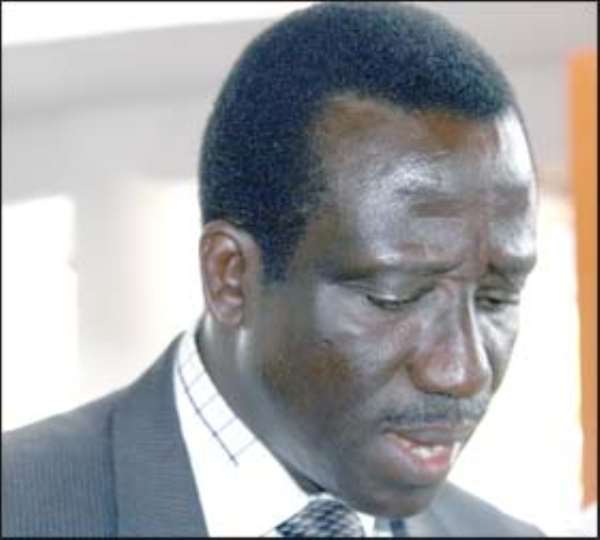 Anthony Minlah - VAT Commissioner ONCE AGAIN the Value Added Tax (VAT) Service has exceeded its revenue target of GH¢504 million for 2008.
According to provisional estimates from the revenue collecting agency, the VAT Service collected GH¢540 million for last year, representing a 7 percent increase.
Prudent tax policies implemented by the out-gone government are believed to have contributed to this remarkable achievement by the service.
Last year, the service also exceeded its target of GH¢450 million, collecting a total of GH¢459 million.
Despite this remarkable success chalked last year, the commission says it encountered several challenges that it hopes to address this year and beyond.
According to Anthony Minlah, Commissioner of VAT, record keeping and non-compliance with new schemes including the flat rate scheme and the communication service tax were some of the major factors associated with the occurrence.
He pointed out that the commission could have achieved better results if these setbacks had not occurred, hence the service has outlined relevant action plans to enable it beat its target for this year.  
On other plans for the year, Mr. Minlah said his outfit was going to continue with its debt collection programme as well as intensify tax education to enable the public honor their tax obligation.
The VAT Service in the past years has intensified its distress action on recalcitrant firms, a situation that has helped to shore up revenue for the state.  
Other programmes such as improvement in computerization and working environment are also high on the agenda.
It has however set a revenue target of GH¢550 million as provisional estimate for this year.
The figure is subject to change as the commission awaits the appointment of a new Finance Minister under the new government.
The service also bagged GH¢27.68 million from the Communication Service Tax (CST) in the first five months of its operation, from August to December 2008.
Meanwhile, figures of revenue of the Customs, Excise and Preventive Service (CEPS) and the Internal Revenue Service are still being collated.
By Charles Nixon Yeboah