If there are witches, they must be hunted!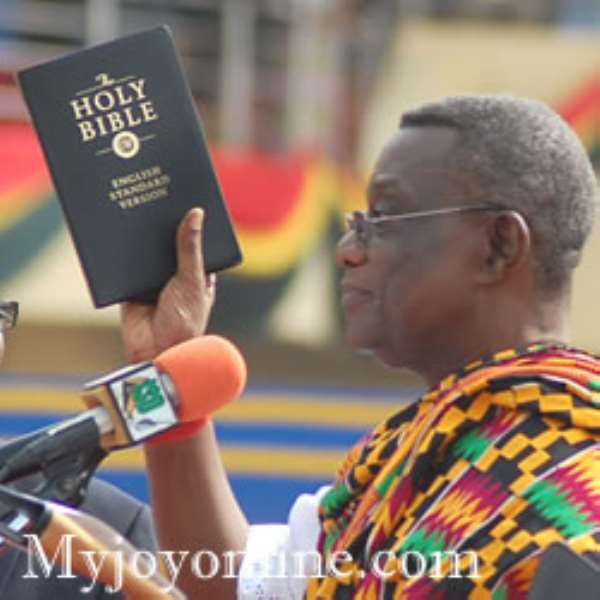 President J.E.A. Mills at his investiture
(It is admissible that corruption started from Adam. Nevertheless, accountability also started from the Garden of Eden...)
President John Evans Fiifi Atta Mills, President of the Republic of Ghana, insisted during the Electioneering campaign and at his inauguration ceremony on 7th January 2009 that his government will not engage in political witch-hunting and this is part of efforts to unite all fragmented sections of the Ghanaian society.
What is political witch-hunt? Is the president's promise coming at a compromise to accountability of past leaders? Moreover, is that the right way to go if we want to unite perceived disintegration of the Ghanaian society?
To start with, the Word web dictionary explains witch-hunt to mean the Searching out and harassing dissenters or campaign against dissenters. The Oxford English dictionary however, holds the view that it is a campaign against a person with unpopular view.
Moving forward, it can arbitrarily be suggested from the above definitions that political witch-hunt means dealing drastically with or not tolerating the views of persons or group of persons and or institutions who disagree with the established authority or the popular view. Hence, if it is the position of the third president of the Fourth Republic of Ghana to embrace all shades of opinion including those contrary to his government, then it is refreshing and timely. It is also a victory for democracy over tyranny and dictatorship. It is appropriate therefore to call on all apostles of civilised governance to support the president's bid to achieve this noble task.
The above notwithstanding, witch-hunting as a political lexicon or terminology, used in modern parlance and in particular Ghana, has come to mean, the act of governments or political leadership manipulating the institutions of state, such as the security agencies and the courts, to settle political scores with persons or bodies belonging to political persuasions other than the ruling regime.
The act may range from taking advantage of the broad platform that governance provides to haul insults at and impugn doubt on the credibility of political opponents to imprisoning them on false charges and in some extreme cases torturing them to death or making them disappear. This immorality and democratically hostile practice is usually adopted to induce fear in critics of a regime or worse still perpetuate one's self in government for as long as possible by dismantling political opponents to an extent of incapacitation to contest an election.
As pervasive as this practice may be, particularly in Africa and many third world countries, it is very unpopular with all persons with democratic ethos. The efforts of progressive forces, particularly in not cooperating with leaders of such credentials and educating citizens of the negative consequences in areas of economic growth and social cohesion, are yielding positive dividends.
The important point however, is that in our genuine quest to grow our democracy, by doing away with witch-hunting in our body politics, the rule of law and political accountability stands threatened. Thus, demanding legitimate accountability from politicians in recent times has equally assumed the unfortunate labelling of political witch-hunting, which has tacitly made politicians immune to prosecution and above the very laws, which establishes their authority. The resultant effect is that they have a blank cheque to ravage their countries beyond repairs.
The Next Generation Youth League International (NGYL) supports the government of Ghana entirely to eschew witch-hunting. Our uncompromising stands however is that such promises should not come at a compromise to the fair and firm applications of the legislations of the land to exact accountability and greater responsibility from every citizen and more so from leadership.
It is the considered opinion of NGYL that being tagged as a witch hunter is not as grave as avoiding the labelling by allowing persons who have stolen from the people to escape accountability.
Aside strong and assertive leadership, political institutions must be strengthened to work. The difference between political witch-hunting and accountability is institutions, without which, what constitutes accountability and political witch-hunting will always lie in the eyes of the beholder.
Ghana's inconsistent showings on Transparency Internationals Corruption index reveal that the war against Corruption is still in need of a General, an amour of strong institutions and patriotic foot soldiers. Today Ghana has conquered her fear of electoral violence and civil strife because Ghanaians have allowed the electoral institutions to work. Corruption is fought similarly: allowing the institutions to work. The maturity of our democracy cannot rest on our ability to form a queue, cast a vote and go home but ultimately in the ability of our institutions to work for us.
Thirdly, Prof John Evans Atta Mills (President of Ghana) must as a matter of right, separate the Attorney-General from the Ministry of Justice to give prosecutions lesser political motivations.
Additionally, the Public Accounts Committee of Parliament can be supported to be more functional. The Auditor-General's report must be taken with a greater deal of seriousness. Above all, parliament should employ its political will to pass the Whistle Blower bill.
Lastly, recent political discussions aimed at uniting all sections of the Ghanaian society, after the bitter political campaigning, though well spirited, has tend to suggest that unity can only be achieved when sins of politicians against the state are ignored. This is a claim, which cannot be supported with our history or any hard sociological evidence. The opposite is however true. That is, if indiscipline on the part of political leadership is allowed to fester, it sets bad precedence, which allows for impunity and bravado in committing ills against the public good, which among other things create disunity among a hitherto cohesive populace.
If Ghana and Africa is to succeed, we need leaders who have the courage of their convictions and whose actions are not just politically correct but morally sound.
It is admissible that corruption started from Adam. Nevertheless, accountability also started from the Garden of Eden. If corruption is, a genetic tradition then so must fairness, justice and all other political virtues.
Political witch-hunting cannot and must not blackmail accountability and that is why NGYL believe that if there are witches then they must be hunted.

Credit: Akyena Brantuo Benjamin
(Executive Director, NGYL) for The Next Generation Youth League International (NGYL) [email protected]
TEL- 233244825187, 233264825187