Why NPP lost: My Clinical Diagnosis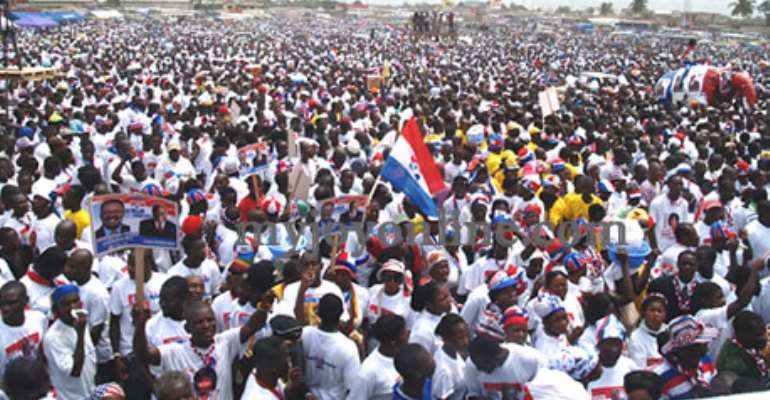 Belated commiserations to Nana Addo Dankwa Akufo-Addo for the defeat he suffered at the recent general elections in Ghana.
Nana is an honest man, an achiever, a believer in democracy and human rights advocate. A man who was privileged to be born with the proverbial silver spoon in his mouth yet chose to dine with the poor. Growing up, I saw him defend all kinds of people in the courts of Ghana and when the occasion demanded, he was at the forefront of various mass demonstrations; among them, "Ku Me Preko", "Sie Me Preko" not to mention the "UniGov" days. He fought all the military juntas either in the courts or on the streets. He is bold, decisive and fearless. But I digress.
Why couldn't the NPP properly and effectively sell a man with all the above qualities to Ghanaians? In any case dear reader, I am a proud member of the NPP who has served as ward chairman, secretary in the late 90s and polling agent from 1992 to 2000 general elections. My question is: What caused this defeat? Before I start, I want to make it clear that I don't claim to have all the answers to this avoidable defeat. Most importantly, what I am about to do is not to talk about any of the policies the party implemented, rather flag up some very basic errors made by the party that contributed immensely to our defeat.
The Elitist Tag:
We have been labelled as an "elitist party" that pays little or no attention to the masses. This is definitely not true. History is awash with a lot of policies initiated or implemented by the party from the days of Dr Busia and Kufuor which were geared towards alleviating poverty and improving health care for our village folks. I would not bore readers recounting some of these policies. In spite of the above though, I do not think the NPP did enough to rid itself of this tag. We rather confirmed it. We seem not to have listened to the people on the ground and appeared to have taken their choice and preferences for granted especially towards the general elections. An example is what happened during the primaries for parliamentary candidates in some constituencies. Remember Bekwai and Nkawkaw? The party would have to reform the selection process to involve the masses rather than the existing procedure which places this august responsibility in the hands of the constituency executives. As it is, the people did not have their choice and the resultant defeat of the party's candidates in those constituencies is testament to how unpopular those decisions were.
It left an indelible mark on the popularity and chances of the party. Losing seats to our main competitors is bad enough but to lose to "independent candidates" is even worst! In both the above cases, the candidates who had the loyalty of the constituency executives "won" the primaries against the masses choice. The masses then assumed their choice and preferences do not matter to the elites in the party. Hence confirming the unfortunate "elitists tag" and playing into the hands of our opponents.
Disaffected Polling Agents:
Is it true some of our polling agents were compromised? After the general elections on 7th December, 2008, the executives of the party came up with the diagnosis that some of our "polling agents were compromised". The question then arises: What would cause a polling agent of a ruling party anywhere in the world to stitch up his/her own party by looking the other way whilst the opposition stuff up ballot boxes with thump-printed paper? Is the allegation that the party forgot about the polling agents after the 2000 and 2004 elections true? The same people on whose backs the party rode to power? In my days as a polling agent, some of us were beaten, harassed and threatened. I remember having to top up the allowances of fellow polling agents from my own pocket just to make them happy. The allowances then were so paltry. The truth of the matter is that, it is not worth the intimidation, pain and emotional stress some of us were subjected to by the "macho men" of the NDC. But that was when we were in opposition. I was in my 20s then; the pride I had in representing my party and the adrenalin alone was just enough for me. I still keep in touch with some of my colleagues who allege that they have not been taken care of since the party came to power and that the party only remember them when elections are due.
I thought they were simply being unnecessarily demanding on the party until the story was openly corroborated by party executives at a news conference that some polling agents were compromised. What did we expect if people who risk their lives on daily basis are ignored? I can bet anyone with my last pound that it is the likes of these people who suffer most brutalities and atrocities during general elections and not the leading members. They are the true foot soldiers of the party. Before 2012, we need to investigate this matter thoroughly and assure would-be polling agents that such things would not recur.
Unhealed Division:
It is pretty obvious the polarisation of Nana and Alan camps after the national convention at Legon did not help our cause. These two camps were miles apart and so entrenched that the chasm created could not be bridged. Kufuor's open support for Alan was ill-advised, ill-timed, miscalculated and simply uncalled for. In fact it runs parallel to the "Swedru Declaration" made by Former President Rawlings. Even worst was Alan's decision to resign and then do a U-turn. This single act left a cancerous wound on the party and dimmed our chances of winning. We needed a united front but the congress splintered us into camps. Alan has got to work extremely hard if he wants to be considered a pillar in the party.
Unchallenged Negative publicity:
There was so much negative news on the air waves against the party which went unchallenged for so long. Where were the men to correct the erroneous impression some of these stories created in the minds of the electorates? It is true that there was no truth in the drugs allegations against the party, huge ministers' bank account stories among others. Perhaps we forgot that, falsehood, if repeated for so long without being challenged is mistaken for the truth. Our attitude and approach to some of these accusations were simply mind-blowing.
We are dealing with people whose stock in trade is to fabricate stories and passionately repeat them on the airwaves to make them appear as true. When we made efforts to challenge some of these, it was either too late or too feeble to mend the dent on the electorates psyche. Interestingly, it was Malik Kwaku Baako, a CPPist who defended the corner of NPP (You fought the good fight Kwaku!!). How sad! We either did not care to react appropriately and in time or we simply chose to behave like ostriches hoping that those stories will wash away. I am sorry but our democracy is only in its teething stage and anyone who thinks such negativity would just wash away without being fiercely challenged with all the force we can muster is just being silly. We owed the people an explanation whether the allegations were true or not. Whatever happened to the 14 days ultimatum to Victor Smith? If someone was not going to act on it, then why issue it? We genuinely believed the electorates were going to take us seriously by issuing idle threats huh?
Complacency:
It baffles my understanding why after electing Nana in November 2007, we only commenced effective national campaigning in August/September 2008 after Dr Bawumia's nomination. To me, this was an act of complacency on our part. Do we honestly think three-and-a-half months was enough time to campaign and put our message across to an electorate who have been bombarded with so much negativity since 2006 when the NDC started its house-to-house campaign? It doesn't even happen in developed democracies!
Barack Obama campaigned close to 2 years non-stop to clinch both the Democrats' nomination and the American presidency. If this is what pertains in a matured democracy like that of the USA, why would anybody in the NPP think that we could start campaigning in September and win the elections in December? In our part of the world, only a fraction of the electorates vote on policies. A greater percentage of them vote for personality. Our village folks would like to see you in every hamlet interacting with them and explaining issues. Was it complacency, lack of planning or a case of forgetting how we got to the top? In either case, we need serious rethinking and strategising.
Presidential Jet et al:
In my view, whoever mooted the idea of a Presidential jet in an election year delivered a sucker punch to the NPP. Personally, I do not think this is a necessity. It shouldn't have been entertained at all. Have we so soon forgotten the effects of the Gulf Stream saga on the NDC? What about the confusion that arose from the numerous inconsistent and contradictory defences we tried to put out? With the price of crude oil then sky-rocketing with the speed of spacecraft and the concomitant hardship it was having on the Ghanaian, it was simply insensitive if not callous on our part to even dare suss the electorates out with this luxurious accessory. Bear in mind my dear reader that the Golden Jubilee House was still being built. I don't want to go into whether the palace was a gift from India or not. My point is that these two things painted a picture of the party looking after the executive and forgetting the masses. Why wouldn't the NDC pounce on these?
A Grievous Mistake by Kufuor and NPP (Majority in Parliament):
Former President Kufuor's re-appointment of Dr Anane was simply an insult to Ghanaians. Was no one good enough in the party to be given Anane's position? The man was a damaged goods the moment it came to light he impregnated a woman whilst on government business (HIV conference! And a doctor as that! Haba! Ever heard of condoms Dr?). Dear reader, I want you to bear in mind that my gripe with Dr Anane is not about the money that changed hands in this affair. It is about principle and morality. What would Ghanaians make of our then majority's decision to re-confirm him? The majority in parliament at the time should not have re-confirmed him as a matter of principle. Or was it a case of looking after each other or none of them not being worthy to cast the first stone? We let ourselves and the nation down.
We cannot afford to wait until the last hour. Being in opposition would make it even harder and therefore we would have to redouble our efforts at addressing some of these problems and hit the ground running.
It is my humble wish that we make genuine efforts at reaching out to the people and explaining issues more effectively. The race to the Golden Jubilee House in 2012 for the NPP commences now. If some of these basic flaws are addressed, it will go a long way in ensuring we come back stronger in 2012. When God Almighty grants us the mercy to come back again, we should look at some of these basic but very damaging errors and avoid repeating them. If we introduce and implement the best policies but put out a terrible image and a stinking attitude, people will not vote for us. Let us take all positive criticisms in good faith and work hard to improve our shortcomings.
This is my advice to the executives: LESS TALKING AND MORE LISTENING. Time to come down from your ivory towers and listen to the masses. Hear their grievances and work to resolve them.
Folks we are down but not out yet. Like Arnold Schwarzenegger, WE WILL BE BACK!
God willing!
Long live Nana!
Long live NPP!!
God bless Ghana!!!
Credit: Kofi Kyei-Mensah-Osei
London [[email protected]]