My agenda for President Mills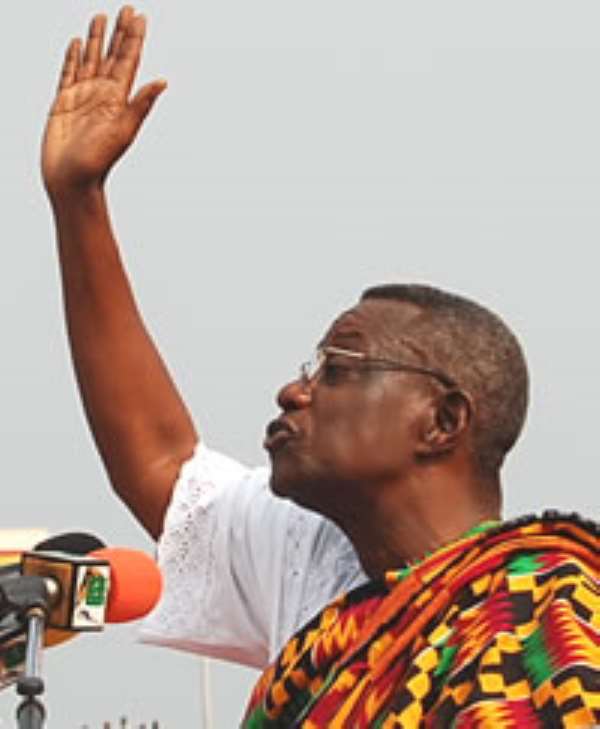 President J.E.A. Mills

Mr. John, you are the third John to ascend to the throne of the presidency, I mean in the Fourth Republic. I must admit that it was not easy and that you even needed the help of two other Johns to achieve your aims. Now that you have ascended to this great throne it is my prayer that you help correct the blind-spots of the two Johns who preceded you. Personally, I think these blind-spots are many but not plentiful. And I will like to point out only three that need your immediate attention.
First, as you said during the IEA presidential debate; that "the private sector is in distress", I will like to draw your attention to the Poultry Industry in Ghana which is in acute distress.
Based on few observations, I have come to believe that this sector can supply the entire poultry demands of Ghana without external help. And if that is the case, I will want to beg you to pay attention to the poultry industry.
Although the cock is a CPP symbol, I think it runs in search of shelter when rains set in and therefore the umbrella can help. Mr. John, you are an economist yourself and you know the benefits that can accrue to the country. I am pleading with you to turn your caring eyes toward this industry. And by turning your caring eyes towards this, 'the option for the poor campaign' you embarked upon will come to fruition, because employment will be generated, money will be in peoples' pockets and the country's economy will be strengthened.
Second, I will like to move to another industry and this is just a reminder because when you were a vice president your government invested in it. Now that you are the big boss yourself, I hope you will help it to blossom. I am referring to the rice industry. Traveling along the Accra-Takoradi road, I often see some faithful sons and daughters of Ghana who work in this industry killing themselves for our sustenance. I will like you to pay attention to them and other uncountable sons and daughters of Ghana scattered around the country who are busily engaged in this industry.
Therefore Owula John, I'm just reminding you of the good work you started and I beg you also to help them grow and develop this nascent industry. We can't be buying perfumed rice always from somewhere.
Third, my hard disk upstairs just reminded me that the prefect and the assistant are both named John. Yes, that is true and since it is only true but not perfectly true then I will want it to be perfectly true. Mr. John, you know eight years ago there were two Johns occupying the first and the second highest offices of this land. And eight years after there are two Johns occupying similar offices. In between there was a lonely John, I mean our immediate past president. Please, Please, Please, I beg you in the name of the Almighty God and Jesus Christ in whom you all believe, to use your influence to bring them together. We want to boast of the country of three Johns. Please try your best to bring your predecessors together. Remember you are the third John; you are the binding force so please reconcile them and let's have a TRINITY JOHN.
May the Almighty be your guide as you face your new challenges. It is my prayer that you seek wisdom and directions from God instead of Man.
Be assured of my prayer. Be blessed Mr. John.
Credit: Joe Tony [[email protected]]