Konadu Apraku endorses Nana Addo for 2012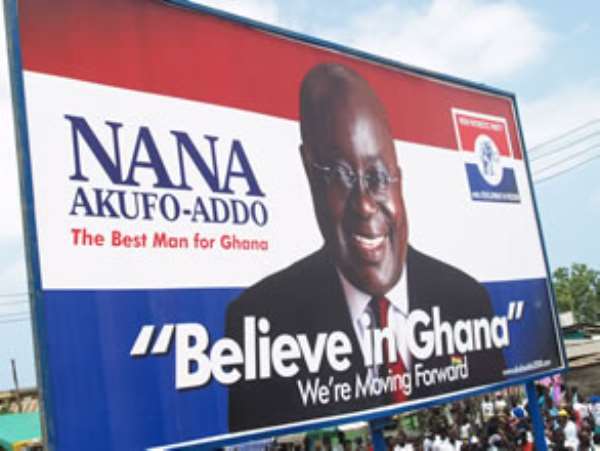 Dr Apraku comments on rumours
The director of the Akufo-Addo campaign team in the just-ended general elections, Dr Konadu Apraku, has endorsed Nana Addo Dankwa Akufo-Addo for the party's presidential candidacy for the 2012 elections.
"I think Nana Akufo-Addo will be the best person to present, I have already told him I will be there completely for him," he stated.
Dr Apraku was reacting to comments in some sections of the media that he engineered the loss of the flag-bear in a bid to increase his own chances of running for the presidency in 2012.
Nana Addo lost the December 2008 cliff-hanger election by a narrow margin; a little over 40,000 of the total valid votes cast.
Dr Apraku rebuffed the allegations from some members of the party bitter at the party's defeat in the crucial election.
"But I understand the frustrations of our people," he said.
"Nana Akufo-Addo is not a young man, he's an experienced man; he will not select somebody that will come and undermine him. Anybody who watched from close quarters will know that I gave him the best."
"I think it is preposterous that I would want the whole party to lose and go into opposition and fight my way back to power," he said.
Dr Apraku also dismissed reports that he misappropriated funds meant for the campaign team for which reason there is a rift between him and Nana Addo.
There have been rumours circulating in the media that the economist misused some funds earmarked for the campaign of the NPP. But in a swift reaction to the issues, Dr Apraku described the comments as rather preposterous.
"People are upset that we did not win and it is justifiably so but people seem to believe that only Kofi Konadu Apraku managed the entire campaign and therefore if… we were not successful then it is odd," he lamented.
He said although he was the director of the campaign team, he had been only a member of the campaign committee, which also included the flag-bearer Nana Addo.
Dr Apraku who was speaking to Citi FM, indicated that his role in the team was to implement decisions taken by the committees and not to take "unilateral decisions."
According to him monies meant for specific tasks were sent by the finance committee "directly to constituencies and everywhere so there is no iota of truth in this allegation."
The former Regional Integration and NEPAD Minister expressed optimism that the NPP would be able to secure the support and trust of Ghanaians to win in the 2012 ballot with his choice, Nana Addo leading the bandwagon.
He reiterated that he has no more interest in the presidency after pledging support and actually working for Nana Addo, explaining however that should Nana Addo decide not to contest again, that may be a different ball-game altogether.
Play attached audio to listen to Dr Apraku who was speaking to Citi FM.
Story by Fiifi Koomson