More Bodies Greet Prez Mills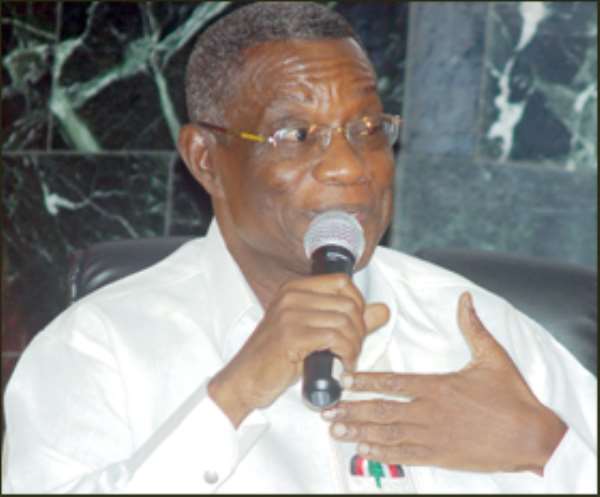 President Mills THE VICE-CHANCELLOR of the University of Ghana, Prof. C. N. B Tagoe, has sent a congratulatory message to H.E. President John Evans Atta Mills on his assumption to the high office of President of the Republic of Ghana.
In a statement signed by Mrs. Stella A. Amoa, acting director of the university, the Vice-Chancellor said, "We at the University of Ghana are proud of your hard-won victory and the magnanimity that you have exhibited thereafter.
"It is indeed a proud moment for us, especially following on the heels of the University's 60th anniversary.
"An earlier prediction that the next President of Ghana would certainly be an alumnus of the University has held true, and we are proud that 60 years after its establishment, the University of Ghana has produced a President for Ghana, adding an enviable accolade to the many accomplishments of our alumni."
According to the statement, the Vice-Chancellor further noted in his message that he hoped that the noble ideals that are the hallmarks of the University of Ghana will continue to inform the President's administration throughout his tenure.
While extending wishes from the entire University community for success in his new role, Professor Tagoe assured President Atta Mills of the University's readiness to support him to steer the development of the country.
In a related development, the University of Ghana Alumni Association has also sent a message congratulating Prof. Atta Mills on his assumption to the high office of President of the Republic of Ghana.
In a letter co-signed by the Chairman and the Executive Secretary of the Alumni Association, Mr. Kwaku Mensa-Bonsu and Mrs. Stella A. Amoa, respectively, the Alumni Association noted that "as an alumnus of the University, President Atta Mills returned to the University as a member of the faculty to contribute his quota to his alma mater".
The Alumni Association also gave assurance of its commitment to support the President, and extended to him best wishes and success as he assumes the mantle of leadership in the nation's history.
A statement from the Ghana Bar Association (GBA) and the Association of Recognised Professional Bodies and Groups also congratulated the newly elected President and wished him a successful term of office as the President of the Republic of Ghana.
It also wished all elected Parliamentarians a success in the performance of their functions as Members of Parliament.
It again congratulated the ruling "National Democratic Congress (NDC), the New Patriotic Party (NPP), other political parties and the entire nation of Ghana for a successful 2008 Presidential and Parliamentary Elections, and wish the nation peace, love, prosperity and unity".
By Esther Awuah