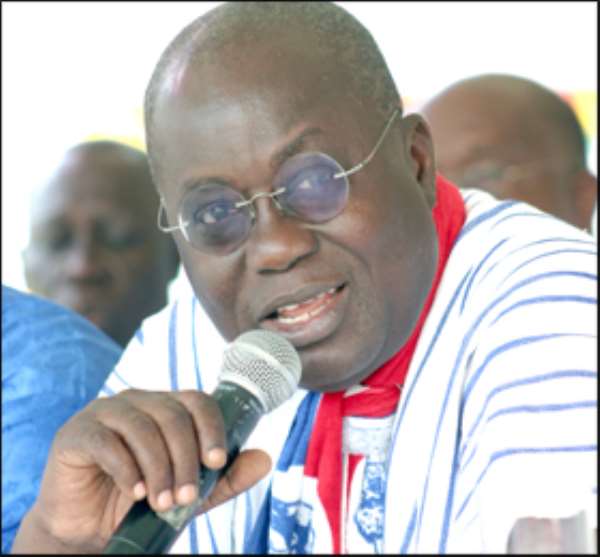 Nana Akufo_Addo DESPITE THE painful loss of the New Patriotic Party (NPP) in the recent presidential polls, the spirit of the Danquah-Busia tradition is still strong in Kumasi, the Ashanti regional capital.
The electoral loss notwithstanding, flags and paraphernalia of the NPP are still flying high in the metropolis while diehard supporters still dress with assorted NPP paraphernalia, as if the electioneering period was not yet over.
An avid supporter of the NPP told DAILY GUIDE that she will continue to dress in the party's colours because she personally thinks the NPP duly won the election but the NDC robbed them of the victory.
Another loyalist of the party also told the paper that she was still delighted to put on the NPP colours as the party only lost narrowly.
Yet another said he began putting on the 'T'shirt immediately after the official result of the polls was declared because he strongly believes the NPP would surely come back to power in the next polls.
"I know definitely that my beloved party will be back in power in the 2012 elections, because the National Democratic Congress (NDC) will fail to deliver on the wild promises they made to the electorate," he emphasised.
Meanwhile the adopted campaign songs of the party which included Daddy Lumba's hit track 'Nana ye winner' and Philipa Baafi's 'Go High' are still blaring in the metropolis.
The songs are constantly played to the pleasure of residents in taxis, at music shops, drinking and chop bars among other places.
Interestingly, flags and paraphernalia of the NDC, which emerged victorious in the just ended election are conspicuously missing in the metropolis.
The party's paraphernalia could be sighted only at its strongholds such as Aboabo, Asawase, Allah Bar and Moshie Zongo.
From Morgan Owusu, Kumasi