Coca Cola Introduces Vending Machines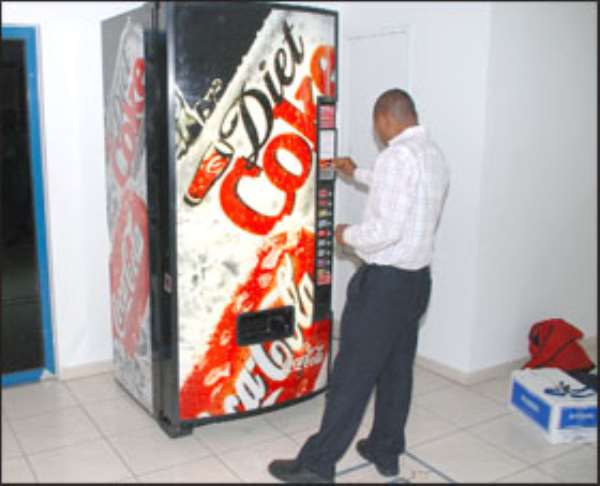 Coca Cola vending machine The Coca Cola Bottling Company of Ghana has introduced an exciting novelty in trade marketing and product distribution.
The beverage giant has introduced vending machines onto the Ghanaian market in order to satisfy its customers and consumers.
According to the Head of Public Affairs and Communications, Ike Cudjoe, the vending machines were placed at selected strategic areas in Accra within the last quarter of last year.  
The concept of the vending machine is to help expand Coca Cola's distribution network and also serve as an additional avenue for the use of coins by the general public.
Some of the vending machines have already been placed at the boarding gate and arrival at the Kotoka International Airport, Silver Star Towers, near Airport, Ghana Hostel Block C at the University of Ghana and Ridge Towers.
"The current placement is on pilot basis in Accra and would be extended to various parts of Accra," Mr. Cudjoe stated.
The Coca Cola vending machines have a capacity of 600 cans per loading and dispense all the key brands of the Coca Cola Company that are produced and marketed in Ghana. 
Although the current machines admit only coins, the company said it would soon import some vending machines that accept cedi bills.