WiLDAF Cheers Bamford-Addo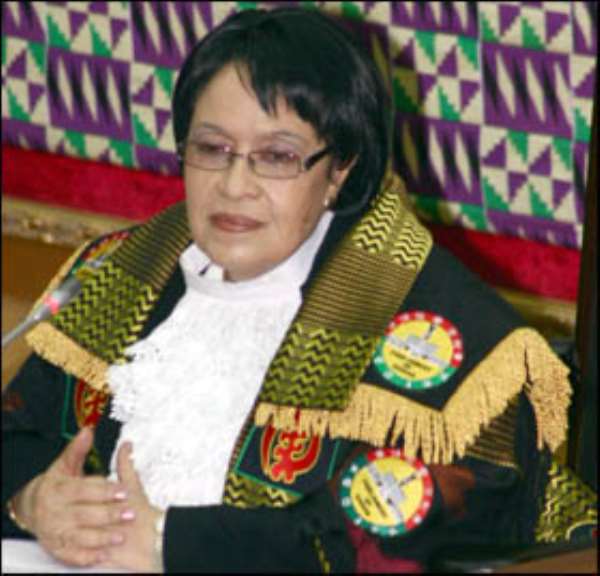 Justice Mrs. Joyce Bamford-Addo WOMEN IN Law & Development in Africa (WiLDAF) has expressed joy about the news of the election of Justice Mrs. Joyce Bamford-Addo, a former Supreme Court Judge, as the Speaker of Parliament.
"A female speaker will be a boost for the advancement of women in Ghana and the Africa continent at large," a release signed by Bernice Sam, National Programme Coordinator has stated.
It said Mrs. Bamford-Addo adds value to the already high crop of women personalities in political decision making positions in Ghana.
The statement noted that constitutionally there are four important persons who at any time will be in charge of the country; the President, Vice President, Speaker of Parliament and the Chief Justice.
It continued that President John Evans Atta Mills and Vice President John Mahama are both men "therefore it stands to reason to appoint a female to the position of Speaker of Parliament in order to fulfill our promises of ensuring gender equality".
Giving a brief background about Justice Mrs. Bamford-Addo, the statement said she acted briefly as Chief Justice in 2003 even though she had earlier worked at the Attorney-General's Department and rose through the rank to become the Director of Public Prosecutions.
It further stated that Mrs. Bamford-Addo is very conversant with the law-making process in Ghana, and believed she has the experience to handle the position of Speaker of Parliament.
By Esther Awuah