Ex-president Kufuor was there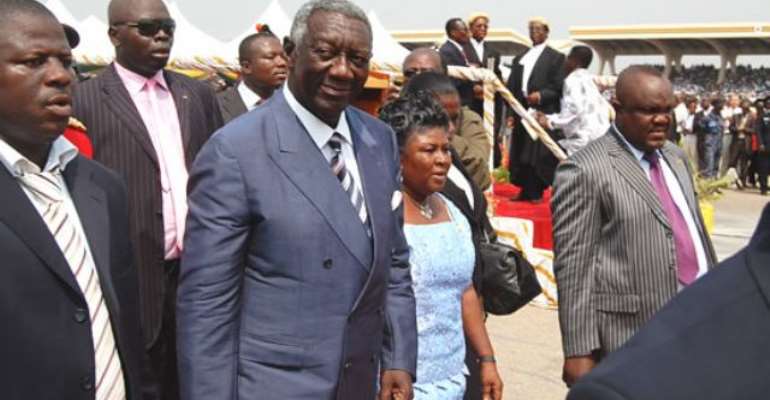 For eight years Ghana's political terrain was dominated by the actions or inactions of one man - President Kufuor.
However, on the 7th of January, 2009 President Kufuor, the 'gentle giant' of Ghana politics as he is affectionately called, marched majestically onto the presidential dais and observed with keen interest activities of the inaugural ceremony of his successor, John Mills.
And even as a spectator, his bold, confident and imposing presence, capped with a toothpaste smile, from time to time, was infections.
J.A. Kufuor, along with wife, Theresa Kufuor, were among several high profile patrons of the historic investiture of an opposition leader of a party permanently sworn to oppose the party of Kufuor's outgoing administration.
Also very notable, was former President Jerry John Rawlings, founder of the NDC.
He threaded through the crowd of supporters amidst chants and shouts of jubilation.
He then proceeded onto the dais and exchanged pleasantries with President Kufuor and Vice President Aliu Mahama before assuming his seat.
Indeed President John Evans Atta Mills' speech would not have been complete without some words of exhortation to his competitors, more so to the presidential candidate of the NPP, Nana Akufo-Addo, who also graced the occasion.
Despite the acrimonious campaign that led to the election of Mills, Nana Akufo-Addo, defied all odds when he showed up at the Independence Square, venue for the inaugural ceremony.