January 7, 2009
|
Election News
Prof. Mills' Hometown Attracts Activities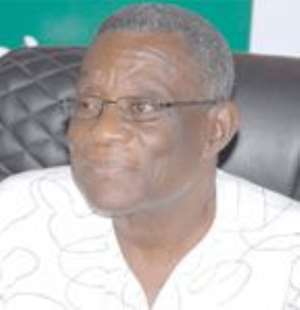 Ekumfi Otuam, a small fishing town in the Central Region of Ghana, which lies 12 kilometres to the left of Esuehyia Junction off the Accra-Cape Coast highway, has become a bee hive of activities following the election of one of its sons, Professor John Atta Mills, as the next President of the country.
The result of the election has also raised expectations among the chiefs and people of the town.
When the Daily Graphic visited the community at about 2 p.m. on Saturday after the final declaration of the results by the Electoral Commission, many residents of the community, including men, women and children, were seen clad in National Democratic Congress (NDC) paraphernalia drumming, dancing and singing on the streets.
All residents the Daily Graphic spoke to said the community would solidly rally behind Prof. Mills as they were proud to have produced the first President from the region.
They said they would not be overly demanding from him for any special favours, except that they would expect the very basic development projects like any other community.
Nana Kofi Atta, aide to the regent of the town, said he was hopeful that the community would be provided with a landing bay to promote fishing.
The assemblyman for the Kwansakrom/Obuom Electoral Area under which Ekumfi Otuam falls, Mr Sylvanus Awortwi Pratt, said the community would continue to press for potable water supply and the rehabilitation of the Esuehyia-Otuam road which was in a deplorable state.
He said of particular importance to the people was a landing bay to boost and promote fishing activities in the area.
Mr S.B. Dadzie who said he was a nephew of Prof. Mills, said "I am sure he is the best person for us as Ghanaians, and I know soon Ghanaians will be happy they voted him into power."
Maame Bosomakyere, who claimed to be Prof. Mills' cousin, said the family honoured the President-elect about four years ago for his contribution to the family, saying "we thank God he now has the opportunity to serve the people of Ghana."
Many of the people who spoke to the Daily Graphic said they expected Prof. Mills to serve as a unifying force to accelerate national development.
A young fisherman, Kofi Adamah, remarked that, "All I want is for him to come back to Otuam and let the little children here know that he is really from here and my heart will be at peace."
Story by Shirley Asiedu-Addo