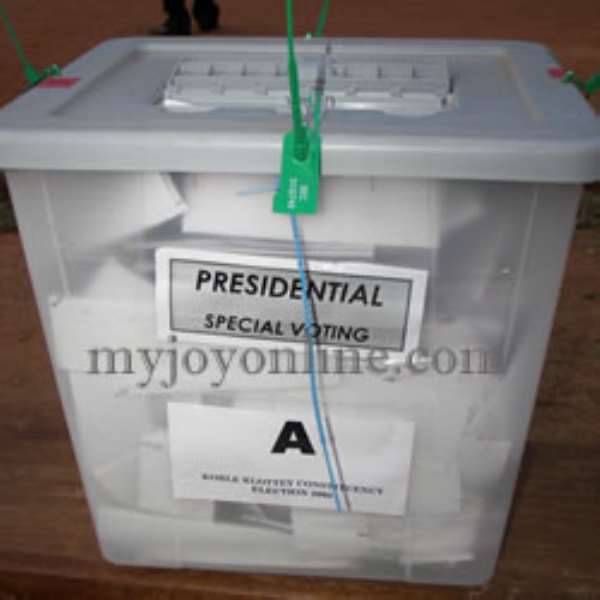 Voting has started at polling stations in the Tain Constituency of the Brong Ahafo Region to elect a President for Ghana.
Voting should have started at 7am but started a little behind time owing to the absence of New Patriotic Party (NPP) agents at polling stations.
Joy News' correspondents scouting the poll say Electoral Commission officials allowed some waiting in the hope that the absentee NPP agents would show up, however after a while and with the NPP agents not putting in any appearance, they gave the all-clear to start the process.
The Tain Constituency is the last of 230 to hold elections in a cliffhanger race to elect a president for Ghana.
Professor J.E.A. Mills of the NDC and Nana Addo Dankwa Akufo-Addo of the NPP are the two contestants but the NPP has asked its followers to boycott the elections.
The Electoral Commission has decided the Tain Constituency has too much at stake in picking a president for the country and the poll must be held.
The NPP however, has tried several ways to stop the poll in that constituency, claiming it has protested ballot results and voting processes in some constituencies of the Volta Region during the December 28 runoff.
The NPP wants the EC to investigate the allegations and factor the outcome in the eventual decision for pronouncing a winner.
The party went to court yesterday per an ex-party motion to seek an injunction on the EC Chairman from pronouncing a winner of the presidential race until its concerns have been addressed.
The judge, Justice Amoako Asante did not hear the case, and rather instructed the NPP to serve the NDC and the Electoral Commission and return by Saturday, 11am.
With the Tain 'decider' due today, the NPP has again claimed it has filed an injunction on the constituency poll, and would press contempt charges if the EC went ahead and completed the process.
Already the NDC flag-bearer, Prof Mills, has some 23,000 vote advantage, and having won the constituency ballot in the first round voting held on December 7, the party is confident it would win the decider as well.
Hoy News correspondents speak of an overflow of security personnel, who have assured voters and all there will be no cause for alarm.
NPP officials claim the constituency was not safe enough to guarantee free and fair elections, and have consequently asked their followers to staty away from the polls.
They also cite the same reason for a cancelled rally on Thursday scheduled to have been addressed by President Kufuor.
Story by Isaac Yeboah