You Are a Shameless Hypocrite, Koku Anyidoho!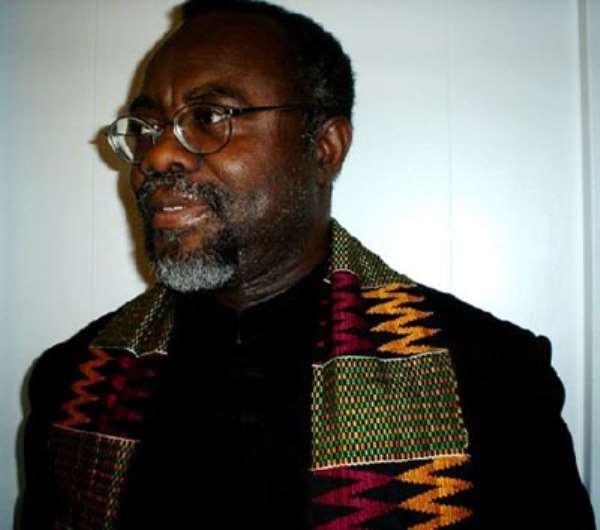 I read Mr. Koku Anyidoho's unpardonably arrogant and downright disingenuous and diabolical call for Nana Akufo-Addo to prematurely withdraw from the ongoing presidential run-off against Prof. Atta-Mills, who clearly lost the first round on December 7, 2008, with all the contempt that such mischievous call deserves.
In fact, I wish the NDC communications director – or whatever he calls himself – were sitting right by me so that I could expectorate in his puffy drunkard's face, as well as issue that bastard at least some three dirty slaps. This devious charlatan was one of those cynical NDC hacks who fervidly prayed for Akufo-Addo's defeat as early as last year, when the ruling New Patriotic Party (NPP) elected the dauphin of the late President Edward Akufo-Addo as its flagbearer in a hotly contested presidential primary.
And for several months thereafter, Mr. Koku Anyidoho and his gang attempted to stall the Akufo-Addo campaign by insisting, against common sense, that the NPP candidate for President of Ghana lacked his party's mandate to enable him run in the 2008 general election. What was even more outrageous were the dastardly attempts by these NDC scam-artists to initiate a lawsuit intended to stop the former Ghanaian foreign minister from running against the handpicked presidential candidate of the so-called National Democratic Congress (NDC).
Now these idiotic nation-wreckers have a real battle on their hands. And they had better prepare to launch their outboard motor-boats anytime soon. Because Nana Akufo-Addo is in this race until Hell freezes over umpteen times! Indeed, we hear these NDC thugs and pimps love their fishermen even more than they love their own wives, sexual partners (or paramours) and their children and other blood relatives. Which may well explain why they made such a big campaign issue and hoopla out of something called premix fuel, which these charlatans suddenly claimed President Kufuor had callously begrudged our coastal fisher-folk, because Uncle Kofi Diawuo, unlike the amphibious Oguaa Kofi Mills, only understands the language of cocoa and foodstuff farmers.
Guess what, the people of Tain, in Brong-Ahafo, are forest inhabitants and cocoa and foodstuff farmers like Mr. Kufuor and Nana Akufo-Addo's kinsmen and women of Atwima-Nwabiagya and Kyebi, respectively. And so it is quite a wonder why unconscionable NDC hacks like Mr. Koku Anyidoho think that, somehow, it is only Prof. Atta-Mills who deserves to campaign for the electoral mandate of the good and diligent Ghanaian citizens of Tain.
To be certain, the NDC presidential candidate and his equally cynical hangers-on have absolutely no respect for the democratic right of the people of Tain, which explains why both Messrs. Atta-Mills and Anyidoho called for Nana Akufo-Addo to concede defeat even long before the good people of Tain had had their moment in the polling booth. And it is also because of such boorish demonstration of their abject disrespect for the people of Tain that we ask that our fellow "Ahaban mu fo" – or forest kin and neighbors – show the NDC presidential candidate the road to Cape Coast and Anloga and the open seas!
We forest and country people have long been ridiculed and taken for granted by these coastal city slicks who, by the way, produce the least amount of our country's wealth but consume most of it. We are tired of these arrogant Anloga and Cape Coast "gentlemen" taking us for a ride. Now is, therefore, the time to tell them that enough is enough! Let them go drink the salty billows of the ocean and leave us alone!
It is also rather laughable for the Atta-Mills communications director to truck out polling figures for Tain Constituency on December 7, 2008 in a bid to discouraging registered NPP voters and other potential sympathizers of the NPP manifesto and development agenda. We wish that Mr. Anyidoho had been honest enough to have done the same for the Nkwanta-North Constituency, in his own Volta regional backyard on that same date, and had also been courageous enough to explain to the Ghanaian electorate precisely why Nana Akufo-Addo's mandate in the Nkwanta-North Constituency was summarily wiped off the electoral map. Indeed, this is the kind of battle that, one is almost certain, respectable legal lights like Ms. Gloria Akufo and Mr. Atta Akyea would be most delighted to join.
The steamroller days of the PNDC are behind us. The pity of it all, though, is that members of the so-called National Democratic Congress and their supporters appear to be having such a difficult time coming to terms with the democratic rules of our country's new political dispensation.
*Kwame Okoampa-Ahoofe, Jr., Ph.D., is Associate Professor of English, Journalism and Creative Writing at Nassau Community College of the State University of New York, Garden City. He is the author of 18 books, including "Ghanaian Politics Today" (Atumpan Publications/lulu.com, 2008). E-mail: [email protected]