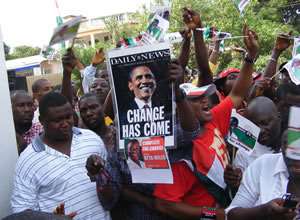 You should see the grin on my face as I put fingers to keyboard. I have been jumping and dancing in my flat like a hippie. And my flat mate is seething with annoyance watching me play reggae whilst jumping and prancing. But I guess he´s only taking consolation in the fact that I deserve to be hippie after all.
It was Jimmy Cliff who sung, "You can get it if you really want, but you must try, try and try and you'll succeed at last". Bottom line for his song, resilience pays. Jimmy Cliff himself has had to work harder and be resilient after he was rejected by scores of record producers for a chance to make a song. The rest of Jimmy Cliff's story is public record. And many readers would have experienced or known of someone who eventually succeeded at something after several failed bids. And so, after trying twice to lead his compatriots, The Prof's efforts have finally paid off in his third attempt.

The grueling months and days are now finally over. Ghana has a new president elected for a 4year term. And in case you were living on planet Pluto, Prof John Evans Atta Mills of the National Democratic Congress, NDC, is the latest president-elect of Ghana.
His party or rather my party won decisively against the ruling party's Nana Akufo-Addo who, after very expensive spending in campaigning according to reports could not beat the much determined will of the majority of Ghanaians. We still have not reached the point in our politics where parties make public how much they have spent on campaigning. We can only guess, based on the sizes of billboards, rallies, and adverts on radio and television.
The last couple of nights since voting ended has left its mark - empty coffee tins, puffy eyes, bottles of fruits juice, drunken stupor, bewilderment, wild celebrations and more wild celebrations. Despite the excitement, I feel groggy from lack of sleep and every muscle in my entire body is calling for sleep.
I am one of the many people across the world, mostly Ghanaians who waited long nights just to see what lay ahead. If only we could see into the crystal ball, the pain endured by some of us would have been eased considerably. If only! But I even wonder whether or not one can trust a soothsayer for predictions on an election. We saw on CNN how a Kenyan soothsayer predicted a win for Obama in the run up to the US presidential elections.
Elections are hard to predict, especially in Africa and the USA where results could be overturned, doctored, cooked and fed to the world (Remember 2000 and 2004 where names of many African Americans were expunged from voter lists in the US, their elections of 2004 like ours in Ghana was fraught with irregularities). But right from day one, I have known the NDC was returning to power after 8 years in opposition, where opponents and a large section of Ghanaians had to put up with all manner of persecution, corruption, brazen arrogance, serial incompetence and deception. It had been a period of complete drama and rip off.
My confidence level is so high I went completely bananas. I even went as further as betting a plot of land. My flat mate, who is NPP but gradually waking up to the realities of the 21st Century Ghana, where voters will punish people whom they feel are beguiled by money and not serving them well. My mate had just returned from a holiday in Ghana and was confident his party was going to win. Yet, in spite of his confidence, he would not bet his plot of land in Kumasi. He sure was smart.
"You think I am a fool", my friend of nearly 20 years asked. I guess he might have seen the writing on the wall but was not magnanimous enough to accept the beating the NDC was about to give the NPP.
Prior to voting date on December 7 and subsequently December 28, I put my television and radio jobs on the line by putting my name to several articles cataloguing my support for the opposition NDC, now the party elect and repudiating the ruling NPP, now the beaten NPP, or rather the nearly defunct NPP. Who cares? I certainly do not care whether or not I got my television job back when I returned to Ghana. I know what fate most colleagues have gone through. For me it was a question of GOOD over EVIL. And what shall it profit a man to keep his job and be silent to the serial incompetence of the NPP government?

The hangover from waiting for the results is still on. The party is not stopping yet, at least not for a couple more days or so. Our many foot soldiers and party hierarchy at home and abroad have worked tirelessly for this hard-earned victory. Ghana can afford to grant us a few more days of frolicking. After all, Professor John Evans Atta Mills won´t be president until he's sworn in on January 7, 2009.

But, what lies ahead after the pots of palm wine are empty? After the lights are down and the curtains are drawn? What happens to a battered economy and broken NPP promises? What happens to the farmers and fisher folk who have lost hope because the NPP would rather promote foreign food products at the expense of our hard working farmers who are over worked, over taxed and under paid? What happens to a polarized Ghana, which has deeply been divided along party and tribal lines?
Tension has been created in the run-up to the polls; insults have been hurled by the hawks in both camps. We have to heal. All of the acrimony and bad blood that characterized the election, particularly in the 2nd round would have to be mended. The economy needs tendering, workers need a boost, our farmers need protection, local industry need a cut on taxes to start flourishing, business men and women need assurances, confidence in the security and civil services has to be restored. Ghana needs to progress or to borrow the NPP slogan "MOVE FORWARD".
The level of work awaiting the Mills presidency is a heap, but nonetheless, nothing insurmountable. We have been there before and we are there again and we would reclaim the dignity of our country Ghana, reward hard work and punish thievery or looting of state money.
Unlike Akufo-Addo, a man I would describe as a megalomaniac, (he had the nerve to describe his opponents as "little minded", referring to himself as the man with the great mind; but was busy "making money" in private practice, at a time when the nation badly needed great minds to lecture in our abandoned universities. Prof. Mills has spent more than 20 years of life mentoring and teaching in the University, where most of the members and supporters of the NPP who studied law at the University of Ghana did so under the tutelage of Prof. Mills. The new president elect is best placed to shepherd Ghana to safety from the recklessness of the past regime under John Kufuor.
The NDC believes in the spirit of all inclusiveness, where persons, irrespective of their political colouring got jobs under Chairman Rawlings because they were simply competent. The NDC has done it before; jobs such as Governor of the Bank of Ghana went to Dr. Kwabena Duffour of the Convention People´s Party, and Ministerial and Diplomatic posts have gone to the handful of NPP functionaries who were qualified, competent and ready to serve under the stewardship of Jerry Rawlings.
It would perhaps take me another couple of pages more to catalogue a list of top ranking but qualified and capable members of the NPP who were recruited by Jerry Rawlings for national positions, the list though including president John Kufuor who was made minister for local government in 1982 and later fired, renowned economist Kwame Pianim, a man who even went to jail for 10 years accused of attempting to oust the Rawlings administration in 1982. Mr Pianim was made Head of the Cocoa Marketing Board, and last but not least Alhaji M.N.D. Jawula who was made Chair of the Ghana Football Association.

Ghanaians have undoubtedly reposed confidence in the NDC, it is time to work for the people of Ghana, but also time for all Ghanaians, to roll up their sleeve and put shoulders to the wheels. One hand can't clap as they say.
Let us get hippie, but let us remember there is work to do from January 7. Until then, let's go dancing. It's celebration time now.
Ras Mubarak [[email protected]]