Mills 50.13% Nana 49.87% - E.C.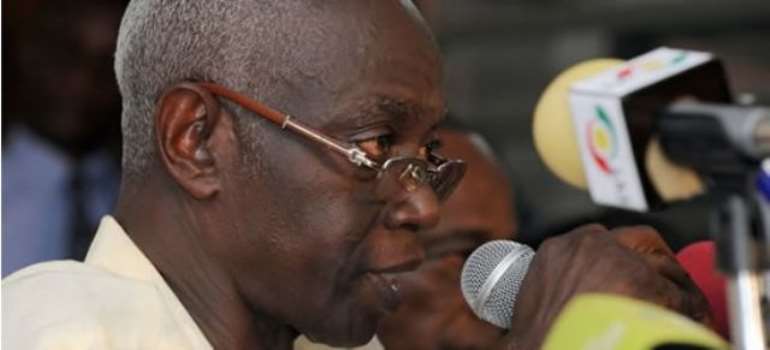 Accra, Dec. 10, – Dr. Kwadwo Afari-Gyan, Chairman of the Electoral Commission, on Wednesday announced the results of the 2008 Presidential election declaring that, there will be a run-off on December 28 between Nana Addo Danquah Akufo-Addo of the New Patriotic Party (NPP) and Prof. John Evans Atta Mills of the National Democratic Congress (NDC).
He said this was because none of the eight candidates who contested Sunday's election won more than 50 per cent of the votes in order to be declared winner.
Giving details of the votes, he said Nana Akufo-Addo had 4,159,439 votes representing 49.13 per cent while Prof. John Evans Atta-Mills of the National Democratic Congress (NDC) obtained 4,056,634 representing 47.92 per cent.
The People's National Convention (PNC) represented by Dr Edward Mahama had 73,494 representing 0.87 per cent; Emmanuel Ansah Antwi of the Democratic Freedom Party (DFP) had 27,889 representing 0.33 per cent and Thomas Ward-Brew of the Democratic Popular Party (DPP) had 8,653 representing 0.10 per cent.
Others are Dr. Paa Kwesi Nduom of the Convention People's Party (CPP) had 113,494 representing 1.34 per cent; Mr Kwabena Adjei of the Reformed Patriotic Democrats (RPD) had 6,889 representing 0.08 per cent while Mr Kwesi Amoafo Yeboah, the independent candidate chalked 19,342 votes representing 0.23 per cent.
Dr Afari Gyan pointed out that the results announced excluded that of Akwatia Constituency in the Eastern Region, explaining that some ballot boxes where taken away from the voting premises during the exercise.
He said total valid votes were 8,465,834 while the total votes cast were 8,671,272 out of which 205,438 representing 2.4 per cent were rejected.
He said 12,472,758 people registered for the polls. Voter turn-out was 69.52 per cent.