Mills to win presidency - Joy 99.7 FM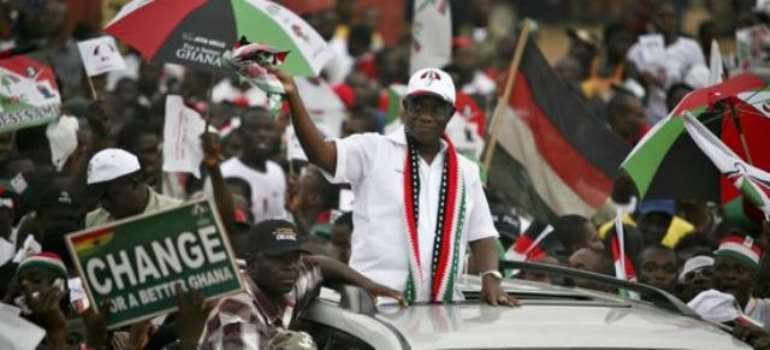 Joy FM has projected Professor John Evans Atta Mills of the National Democratic Congress as Ghana's next president.
The projection is based on the station's analysis of 223 constituency results certified so far by the Electoral Commission.
The Chairman of the Electoral Commission, Dr. Kwadwo Afari Djan will declare the official results.
The 223 constituencies generated 8, 726, 539 valid votes cast.
Out of this number, Nana Akufo-Addo obtained 4,307,10 votes representing 49.36 per cent.


Prof. Mills on the other hand polled 4, 419, 419 votes representing 50.64 per cent of the total valid votes cast.
With these figures, the difference between the two candidates is 112,229 or 1.28 per cent of valid votes cast.
The remaining seven constituencies have a total of 339,478 voters out of which the NDC won five constituencies during the December 7, elections.
The five constituencies gave the NDC 202,724 while the remaining two gave the NPP 136,754 votes.
It is important to note that Prof. Mills at this juncture needs only 62,669 to win while Nana Akufo-Addo needs 174,968 to win.
Given that the trend has remained generally the same, it can safely be assumed that Prof. Mills can obtain the 202,724 votes from the five constituencies which is far in excess of the 62,669 which he needs to win.
It is also apparent that Nana Akufo-Addo cannot obtain 174,968 from the 136,754 votes he obtained the last time around.
While the road to winning is very wide for Prof. Mills based on the numbers at hand now, it appears to have perilously narrowed on Nana Addo.
His prospects are bleak.