Counting of votes at some polling centres ends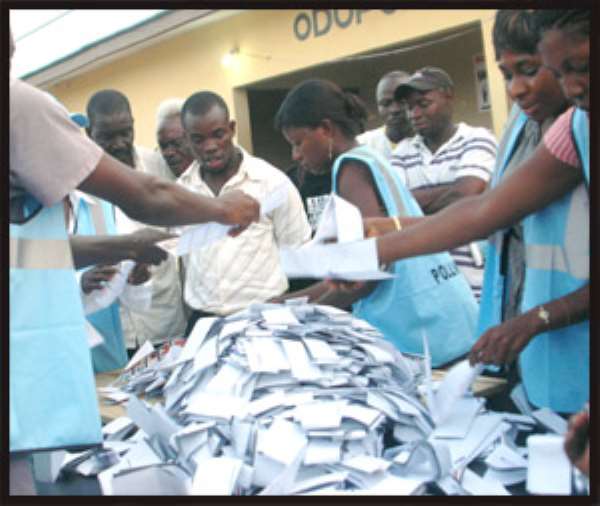 Counting of votes
The counting of votes at some polling centres in Accra has ended with supporters of the winning candidates breaking into wild jubilation on the streets.
At the G. Maa Temporary Booth in the Osu Alata Electoral Area of the Osu Klottey Constituency in the Greater Accra Region, Professor John Evans Atta Mills of National Democratic Congress (NDC) bagged 473 votes as against 219 votes obtained by Nana Addo Dankwa Akufo-Addo of New Patriotic Party. Five ballots were rejected.
The Presiding Officer, Mr David Ayettey told the GNA that there were 947 names on the voter register and three on the transfer voters list bringing the total of eligible voters at the centre to 950.
He said 697 people exercised their franchise. They were made up 396 females and 301 males. Observers from the Christian Council visited the centre in the course of the voting.
The Agents of the two candidates did not raise any objection after the counting of votes. There was a short argument over two of the rejected ballot papers. While the NDC Agents did not find anything wrong with them the NPP Agents insisted they should be rejected and the NDC Agents reluctantly acquiesced.
An African Union Observer Team led by Mr Mustapha Crayel of The Gambia observed the counting. He expressed satisfaction about the turn out. "This is a re-run and there appears not to be voter fatigue," he told GNA.
Voting at some 22,000 polling stations throughout the country ended officially in Sunday's presidential election runoff contest between Nana Akufo-Addo and Professor Mills at 1700 hours on Sunday.
Election 2008 Presidential Runoff, considered as historic, would lead to the second uninterrupted handover of power by an elected leader to another elected leader in the country's 51-year political history.
It is the fifth successive multi-party elections under the Fourth Republic. Former President Jerry Rawlings, who transformed himself from a military leader into a democratically elected president in 1992 on the ticket of the NDC, served his full two terms. His term of office ended on January 6, 2001.
President John Agyekum Kufuor, who won the presidency on the ticket of the NPP, would be the second Ghanaian elected leader to hand over to another elected leader.
Seven political parties and an independent candidate contested for the single presidential slot but none of them was able to garner the more than 50 per cent of the votes needed to win the first poll held on December 7 2008, hence the runoff.
In the first round, Nana Akufo-Addo obtained 4,159,439 votes, representing 49.13 per cent of the votes while Prof. Mills garnered 4,056,634 votes, representing 47.92 per cent of the votes cast in 229 out of the 230 constituencies. The results of the Akwatia Constituency in the Eastern Region are outstanding.