Dollar is key to Zimbabwe survival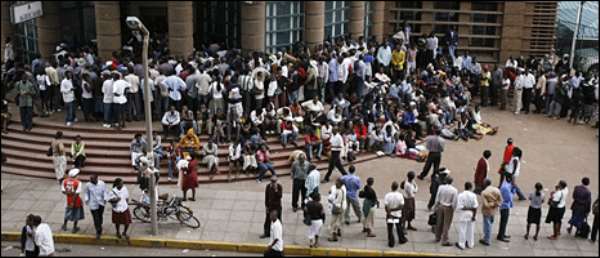 Last week the reserve bank issued a new Zimbabwean banknote - a $500m bill. Its value changes by the day, but a rough estimate of its worth now is about US $50 (£33).
Its release was enough to see a surge of people flock onto the streets and form huge queues outside the banks. Harare's pavements were gridlocked for most of the day.
But increasingly it is only US dollars that are accepted in Zimbabwe's shops. Petrol stations are among those now turning away people who offer fistfuls of local currency.
Even water bills - for what little clean water there is - have to be paid in hard US cash. And bread is now a dollar commodity in many parts of the country.
'Dollarisation'
There has been a surge in cross-border trade in recent weeks with the lifting of restrictions on US dollar transactions.
Consumer goods, food and cars are being brought across from neighbouring South Africa.
Supermarkets are now stuffed with food, filling shelves that just a month or so ago were empty.
These supermarkets are for Zimbabwe's tiny dollar elite - the type that drive brand new cars into the car parks as others try to fend off starvation. They only accept US dollar bills in these swanky shops.
John Makombe, professor of political science at the University of Zimbabwe, estimates that 80% of the population here has no access to US dollar bills.
"Even I sometimes don't have foreign currency and I'm a university professor. To get dollars I have to do assignments abroad," he says. "There are not many Zimbabweans who can do that."
The value of Professor Makumbe's monthly salary, he reveals, is equivalent to US $30. That is just a little more than the price of a jar of instant coffee in the supermarkets which have become a refuge of the dollar rich.
The "dollarisation" of the Zimbabwean financial system is propping up a collapsed Zimbabwean economy.
But it has created an unwieldy free market where the government, unable to control basic prices, is merely a bystander.
A shortage of change and small US banknotes is now creating a new US dollar inflation.
"Zimbabwe is like a house of cards… one puff and it could come down," says a Zimbabwe-based Western diplomat with a depressed tone. "The problem is… there isn't the puff to blow it down."
It seems to be an accurate observation. Massive food shortages, hyperinflation, cholera and continued political turmoil are a heady cocktail.
In any other country in the world, this combination might have triggered a coup. But not here. People are simply too scared.
Critics vanished
Journalists, human rights activists and other critics of Robert Mugabe's presidency have recently vanished.
More than 20 people have disappeared in just the past few weeks - people are terrified.
Reporting the Zimbabwe story is risky for all concerned - not least those on the other side of the microphone.
Not surprisingly many are reluctant to speak out - yet thankfully, some still do. Like Elliot and Molly - a retired couple now living on a small farm, whose geographical details I dare not divulge for fear they are punished for speaking to me.
"Africa needs to be responsible for its own problems," says Elliot boldly. "It's about our own mismanagement… we can't blame former colonies like Britain."
It is a sentiment that runs deep here, though few will speak openly about it.
When I arrived tensions were high following the disappearance of Jestina Mukoko - a prominent human rights campaigner and former journalist, who had allegedly been abducted.
Her safety has been playing on the minds of so many here ever since. Yet Zimbabwe's neighbours continue to offer legitimacy to Robert Mugabe.
Despite a power-sharing deal back in September, he still holds all the cards. He is revered as a liberation hero by many influential figures on the continent, with just Botswana and Kenya breaking rank and speaking out.
One political campaigner for the opposition MDC described the present climate in Zimbabwe as "coerced control" - an environment where intimidation rules.
It means that ordinary Zimbabweans, already enduring so much, may still face the prospect of worse to come - resisting the instinct to revolt with a sense of fear.