Military seizes power in Guinea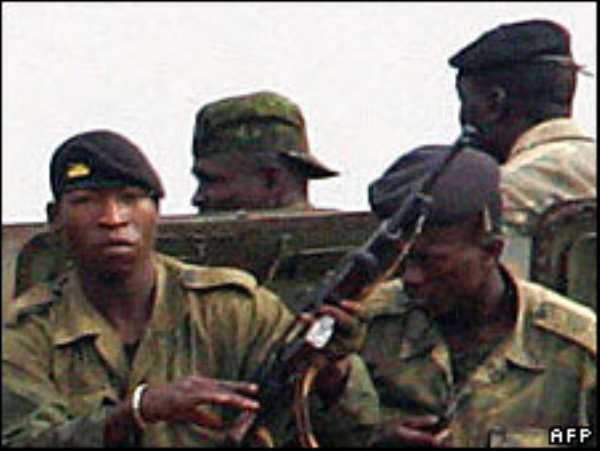 Guinea's army has announced that it has dissolved the country's government and suspended the constitution, hours after the death of President Lansana Conte.
In a state radio statement, Capt Moussa Dadis Camara said a "consultative council" of civilian and military leaders would be set up in their place.
State institutions were "incapable of resolving the crises which have been confronting the country", he said.
Mr Conte had ruled the West African country with an iron fist since 1984.
The precise circumstances of the president's death are not yet known, but he had been suffering from diabetes.
The BBC's Will Ross, in Ghana, says it is important to see whether the army is united on the way forward for Guinea, as a power struggle could be extremely dangerous given the deep ethnic divisions there.
Guinea's neighbours - Liberia, Sierra Leone and Ivory Coast - are enjoying relative stability after many years of brutal conflict, and there are fears that any unrest could spread across the borders and embroil the sub-region in fighting once more, our correspondent adds.

Prime Minister Ahmed Tidiane Souare earlier appealed for "calm and restraint" and declared 40 days of national mourning.
"I call on the defence and security forces to assure the security of our borders and calm inside national territory in homage to the memory of the illustrious late leader," he said.
'Deep despair'
Only hours after the speaker of parliament announced that President Conte's had died after a "long illness", Capt Camara went on state radio to say that the army had taken over, and a body called the National Council for Development and Democracy set up.
"As of today, the constitution is suspended as well as political and union activity," he said.
"The government and the institutions of the republic have been dissolved."
Capt Camara said the country was in a state of "deep despair" and that it was vital that something was done to improve the economy and combat corruption.
He added that a military man would be installed as president, and a civilian as prime minister of a new, ethnically-balanced government.
Announcers said the captain, who is head of the army's fuel supplies unit, was speaking on behalf of the entire military, although this has not been independently confirmed.
The BBC's Alhassan Sillah in the capital, Conakry, said there was no sign of troops on the streets.
"Where I am is unusually quiet save for the noises of passing vehicles and there are very few," he told the BBC's Network Africa programme.
"I've not seen one single child in school uniform and nor have I seen those women who should be going to the market as of now."
Earlier, the leader of the Union for the Progress of Guinea and the secretary of the opposition alliance, Frad, Jean-Marie Dore, called for a peaceful transition of power:
"The most important thing today is that our country's institutions be able to work to prevent unnecessary disorder in Guinea which would add to the current difficult situation," Mr Dore told Radio France Internationale.
The African Union's peace and security commissioner, Ramtane Lamamra, told the AFP news agency that it was "pre-occupied and keenly monitoring" the developments in Conakry.
"We urge all the political and other state institutions in Guinea, especially the armed forces, to ensure a constitutional, peaceful and consensual transition that respects democratic order," he said.
Oppressive rule
The BBC's West Africa correspondent, Will Ross, says that according to the constitution National Assembly Speaker Aboubacar Sompare should be in charge until fresh elections are held within 90 days, but what appears to be a coup d'etat has changed that.
Many analysts had predicted that the army would take over following Mr Conte's death because he had been increasingly relying on it to shore up his oppressive rule, our correspondent says.
President Conte, a diabetic and chain smoker, had been ill for several years. Although it was never officially revealed, he was believed to have been suffering from leukaemia.
He came to power in 1984 at the head of a military coup to fill the power vacuum that had been left by the sudden death of his predecessor, Sekou Toure, who had been president since independence from France in 1958.
He eventually oversaw a return to civilian rule and was elected three times, although critics said the votes were never free or fair.
As his health declined over the last five years, it was often far from clear who was in charge and the government barely functioned, our correspondent says.
Some political parties were allowed to operate, but many opposition leaders were either intimidated by the authorities or jailed.
Last year, more than 150 people were shot dead by the police and the army when demonstrators took to the streets calling for change.
A further four people were killed following protests the suburbs of Conakry in November, according to Human Rights Watch.
Although Guinea's mineral wealth and fertile soil makes it potentially one of Africa's richest countries, its eight million people are among the poorest in the region.