Veep embarks on massive campaign for NPP in four regions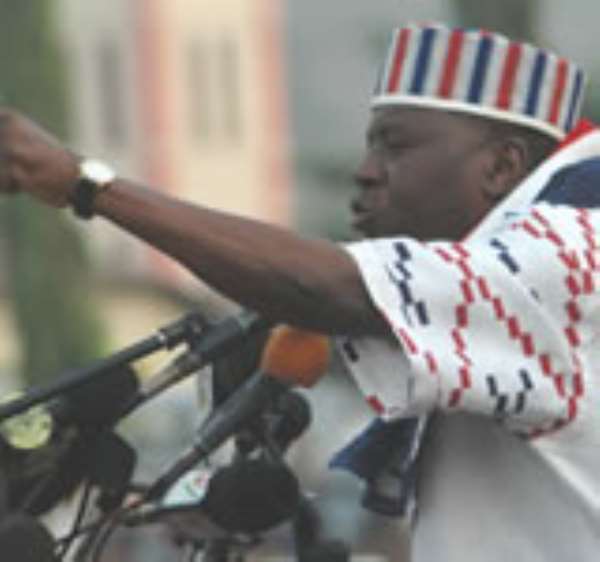 Vice President Alhaji Aliu Mahama, noted at the weekend, that Northerners were part of the struggle that nurtured the Busia-Danquah Tradition and was therefore their civil duty to endorse the New Patriotic Party (NPP) in the December 28 Presidential run-off.
He said formation of the defunct Northern Peoples' Party and the active role, played by Northerners like S.D. Dombo and Jato Kaleo of blessed memory, to transform the tradition into a viable party like the NPP placed on the people a greater responsibility to make sure that the government stayed in office to continue with the total transformation of the country.
Alhaji Mahama made the observation, when he interacted with the chiefs and people of Mamprugu Traditional Area, at Nalerigu in East Mamprusi District of the Northern Region.
The visit is part of a week's tour of the Northern, Upper East, Upper West and Volta Regions, where he is meeting chiefs, opinion leaders, youth groups and party functionaries to market the NPP Presidential Candidate, Nana Addo Dankwa Akufo-Addo.
The run-off was due to the inability of Nana Akufo-Addo and Professor John Evans Atta Mills, Presidential Candidate of the National Democratic Congress (NDC), to gain the mandatory 51 per cent in the December 7, Presidential and Parliamentary elections.
Alhaji Mahama said NPP had done a lot to improve on the socio-economic fortunes of the people in the North and catalogued a number of schools, roads and social infrastructure projects, which he said was evident to maintain the Party in power.
He attributed the 49 per cent votes netted by the NPP candidate and the 47 per cent of the NDC as divine providence.
Alhaji Mahama observed that the run-off was a means by which God want to test the resolve of Ghanaians to renew the mandate of the government to continue with its good works.
He said maintaining NPP in power was the only option for Ghanaians to benefit from more massive socio-economic transformation.
Alhaji Mahama extended the olive branch to anyone who felt offended by any acts or commission by government during its two terms in office.