Ghana Among 20 Growing Economies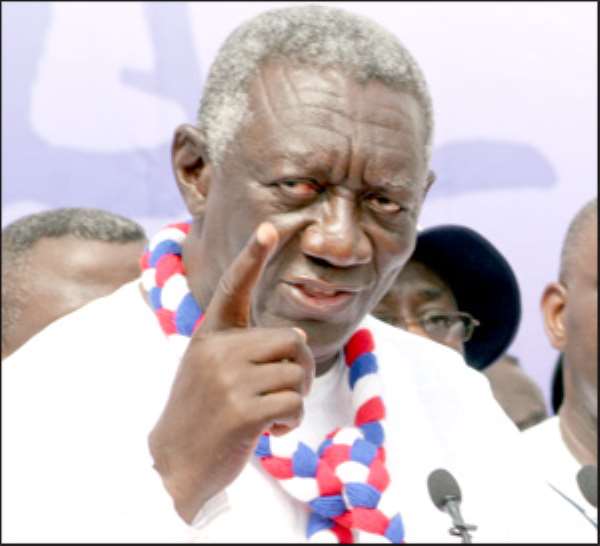 President John Agyekum Kufuor GHANA HAS been named among some 20 fastest growing economies in the world. With a gross domestic product (GDP) growth of 5.8 percent, Ghana ranked 18th after the Democratic Republic of Congo and Liberia which both boast of a GDP of 6 percent.
"2009: Country By Country", a report recently published by the Economist Intelligence Unit, which made these known, mentioned Qatar as the leading country on the list with a GDP growth rate of 13.7 percent followed by Malawi (8.3 percent), Angola (8.2 percent) as well as Ethiopia and China correspondingly with a GDP growth of 7.5 percent.
Burkina Faso emerged at the bottom of the list with a GDP growth of 5.6 percent.
On the other hand, some 20 countries emerged as the slowest growing economies in the world with Iceland topping that section with a GDP growth of -9.7 percent while New Zealand lay at the tail with a GDP growth of -0.9 percent.
The UK and the USA placed 10th and 17th respectively on the slowest growing economies list with GDPs of -2.1 and -1.0 respectively.
The report continues that even though the global economic crisis will spare a few countries next year, 29 countries, comprising mostly developed markets and major emerging ones, will experience economic contractions.
It also predicts that global GDP growth (at market exchange rates) would be just 0.9 percent in 2009 adding that China will be the fastest-growing major emerging market.
Some downside threats expected in 2009 include further financial shocks, which could prevent the global financial system from stabilizing, protectionist policies that could drive an even greater contraction in world trade and geopolitical risks, including continued worries about Iran's nuclear ambitions, the ongoing threat of major terrorist attacks and political instability in a number of key countries.
While it mentioned that the US, Japanese, euro zone and UK economies will all experience recessions, it said sub-Saharan Africa will perform better than other emerging regions.
Additionally, it said several African nations will actually buck the global trend and experience a pick-up in real GDP growth.
Despite less direct exposure to the global credit crunch than other emerging regions, Latin America, it revealed, will be particularly be badly affected by the downturn in the US. The impact will be felt in terms of lower export growth, fewer tourist arrivals, lower remittances and softer commodity prices.
Inflationary pressures will also fall across the world as aggregate demand slumps and commodity prices fall.
Furthermore, the report said global trade growth will slow substantially before recovering between 2010 and 2012. In its analysis on the impact of changing income (or GDP) levels and the effect of high oil prices across a sample of 39 countries spread across the world, it said growth in the value of trade will dip substantially in 2009 and 2010, before recovering in 2011 and 2012.
By Samuel Boadi