World Bank launches Malaria Booster II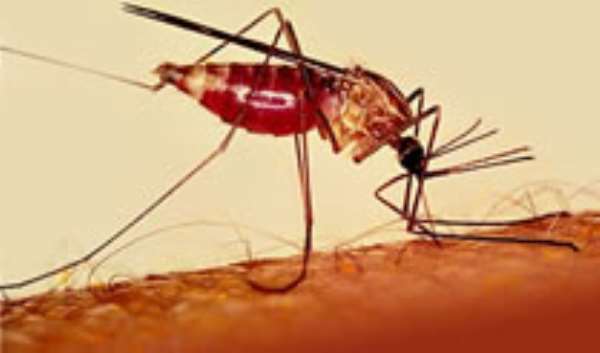 The World Bank is committing US$1.1

billion to expand country programmes to combat malaria under Phase
II of its Malaria Booster Programme, a release from the Accra Office
of the World Bank said on Wednesday.
Speaking at press conference in Abuja to launch the programme,
the World Bank Group President, Robert B. Zoellick, said the new
financial commitment would help African countries over the next
three years to expand their malaria prevention, care, and treatment
programmes and to sharply reduce the numbers of malaria-related
deaths and illness that afflicted their communities each year.
He said: "Malaria is a crushing development burden for poor
people and developing countries, which the World Bank is committed
to fighting for as long as it takes to get it under control.
"Malaria preys on the poor and keeps them poor. Poverty
prevents people from buying bed-nets to prevent malaria and
medicine to cure it. When people are struck by the disease, parents
miss work; children miss school; and malaria emergencies plunge
families into debt from which they can't recover," Zoellick said.
Ray Chambers, UN Special Envoy for Malaria, welcomed the new
commitment from the World Bank and said Phase II of the Booster
Programme would have a major impact in Africa's malaria-endemic
countries.
He was speaking at the press conference alongside the Minister of
Health from Nigeria; a World Bank Vice President and Country
Director and Leaders from the Roll Back Malaria Partnership and the
Global Fund.
Chambers said the "launch of Phase II of the World Bank's
Malaria Booster Programme is a major step toward ending deaths
from malaria, especially in high-burden countries in Africa. The
United Nations has called for universal coverage for the prevention
and treatment of malaria by 2010 and the World Bank's Booster
Program takes us a step closer to that goal".
He said: "The Secretary General and I applaud the Bank's
expanded efforts and its determination to support African countries
as they combat this killer disease. Now it is up to the countries
themselves to prioritize malaria as a vital health and development
issue."
Obiageli Ezekwesili, World Bank Vice President for the Africa
Region; said the Malaria Booster Programme would redouble its
effort and work to support health systems as they prevented and
treated malaria.
He said: "Through efforts of the World Bank and our partners
over the last few years, we are beginning to reduce malaria deaths in
some countries. Phase II of the Booster Program aims to save more
lives, improve health systems and help countries work together to
stop the spread of this disease."
In response to requests from donors and other partners, the
World Bank has taken on a substantial role in supporting National
Malaria Control Programmes in coordinating efforts to fight malaria in
two of the highest-burden countries in Africa: the Democratic
Republic of Congo and Nigeria.
These countries account for 30 to 40 per cent of all malaria deaths
worldwide. Phase II of the Malaria Booster Programme would work
to expand bed net distribution, provide treatment to the rural poor
and improve health systems in the Democratic Republic of Congo
and Nigeria.
Awa Marie Coll-Seck, Executive Director of the Roll Back Malaria
Partnership, said: "When formidable partners like the World Bank,
the Global Fund, and the United Nations work together closely with
countries such as Nigeria and DR Congo, their collective efforts will
contribute enormously to the realization of the Global Malaria Action
Plan. Universal coverage with malaria control interventions is the first
step, then elimination and eventual eradication is our collective goal."
Rajat Gupta, Chairman of the Global Fund Board, agreed on the
importance of global partnerships in the fight against malaria and
said: "We are committed to working hand-in-hand with the Bank to
end malaria as a threat to public health and economic growth, and will
seek to implement a joint program of action to this end."
He said: "Together our institutions can enable African countries
not only to achieve dramatic gains against this disease, but also to
strengthen the underlying health system to sustain the gains made."
Dr Hassan Lawal, Nigeria's Minister of Health, summed up steps
toward universal coverage in Nigeria, saying, "we are expanding our
scope of covering not only the vulnerable, but the total population at
risk. The recently concluded Global Malaria Action Plan offers a
detailed framework for an ongoing fight against malaria.
"In line with this development, we have updated the country's
strategic plan and developed a new business plan which will deliver
more commodities and ensure all populations at risk are covered
between 2010 and 2015. This will lead to achieving the MDGs and,
subsequently, elimination of malaria," Dr Lawal said.
Jeffrey Sachs, Director of the Earth Institute at Columbia
University, Special Advisor to UN Secretary General Ban Ki-Moon,
summed up the need for Phase II of the World Bank Booster
Programme, saying: "Malaria control is one of the great economic
investments of our age. Malaria control saves lives by the million,
promotes children's health and school achievements, and enables
impoverished economies to attract new businesses and to flourish."
He said the World Bank's Booster Programme was a vital
component of the global partnership to fight malaria in Africa, and
that it would prove to be one of the Bank's great contributions to
Africa's wellbeing and economic development.