Mills urge Ghanaians to vote for him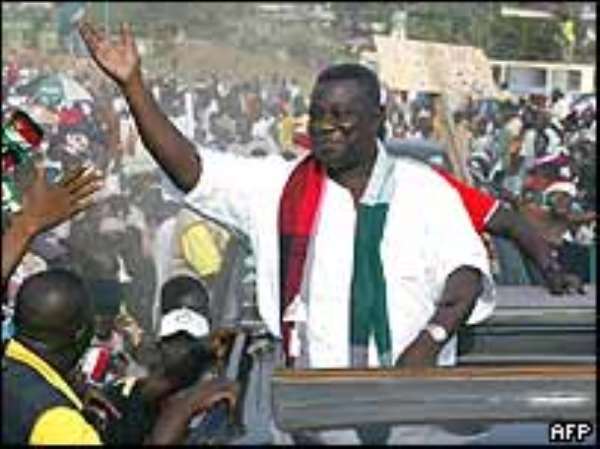 Professor John Evans Atta Mills,
presidential candidate of the National Democratic Congress (NDC), on Tuesday in Winneba, urged Ghanaians to vote for him in the presidential run-off on December 28.
The presidential candidate who has started a four-day tour of the Central Region, asked the electorate to vote for him so that the NDC majority caucus in Parliament could help accelerate Ghana's development.
Prof. Mills advised the electorate not to sell their voter and commended the people of the region for voting for the party during the December 7 elections.
He appealed to them to vote for him in the presidential run-off on December 28.
Prof. Mills had earlier addressed party supporters at Agona Nsaba, Agona Swedru, Awutu Bawjiase, Kasoa, and Gomoa Dawuranpong where he appealed to the people to vote massively for him on December 28.
He said if voted into power, his government would build a strong economy for the benefit of Ghanaians.
Prof. Atta Mills hoped that God would grant him wisdom, patience and love to rule the nation if elected as President.
He said "politicians must leave a legacy of truth so that they can always be remembered by the people they served".
Prof. Mills was being accompanied by Madam Ama Benyiwa-Doe, NPP National Women Organizer and national and regional executives of the NDC.
The MP-elect for Effutu, Mr. Mike Allan Hammah thanked the people for voting for him in the parliamentary election.
Mr. Hammah asked them to vote Prof. Atta Mills into power to ensure easy and quick development of the area.
Madam Benyiwa-Doe said Prof. Mills will win the presidential run-off since Ghanaians were calling for change of government. She called on Ghanaians to vote for Prof. Atta Mills in the presidential run-off, since they voted for NDC parliamentary candidates on December 7.