Jake : NPP is not begging for votes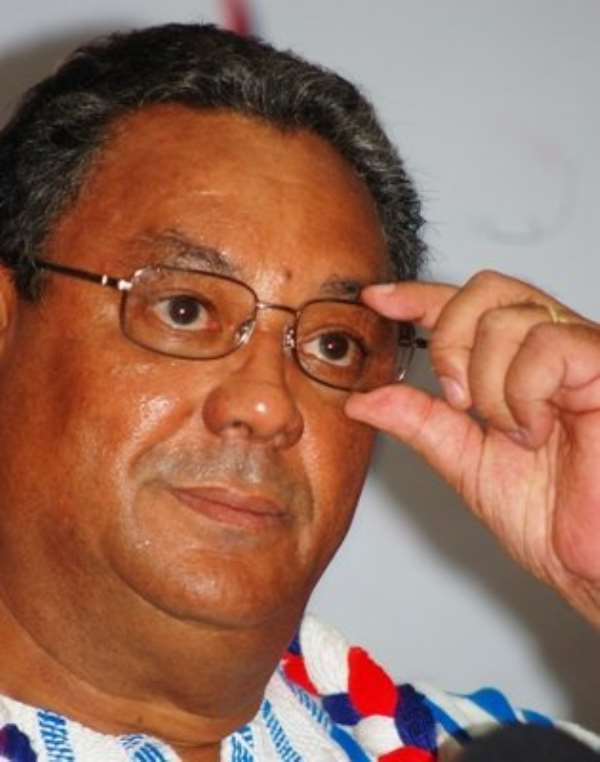 Jake Obetsebi-Lamptey
Jake Obetsebi-Lamptey, chairman of Akufo-Addo's campaign team, has denied the New Patriotic Party (NPP) has been indulging in a begging spree to ostensibly win more votes.
He however told Kojo Oppong-Nkrumah, host of Joy FM's Supper Morning Show, on Tuesday that people must at times feel apologetic for wrongs that might have been committed inadvertently in the past.
"I don't think we are begging for votes, I don't know what the apologetic campaign is. I am told Dr. Apraku is supposed to have said that apologetic campaign, but I have spoken to him and he is adamant. We should not be running anything like an apologetic campaign.
"But that does not mean we do not recognize your mistakes; that does not mean you do not recognize certain things that you may have done or you may not have done."
Obetsebi-Lamptey explained that living up to the party's philosophy – 'government for all' - government refrained from being selective in its programmes and decisions. This, he said, did not go down well with some party die-hards who felt they should have been given preferential treatments.
He said, asking these people to remain steadfast with the party and to expect good days ahead should not be misconstrued as an apologetic campaign.
The campaign chairman is therefore calling electorates to ignore such claims by NPP's opponents; he also denied that decisions such as the fuel reduction are taken at strategic times to boost NPP's image.
"Government must continue. Government has to take decisions based upon on what government can do…I am hoping that people would come to realise that government takes decisions about good governance within the times that those decisions should be taken and not necessary because they are going to have an impact on votes."
He welcomed the decision taken by the Democratic Freedom Party to throw its weight behind NPP's flag-bearer, Nana Akufo-Addo; and respected the intention of the Convention People's Party to remain neutral.
He said in the run up to the December 28 run-off, electorate have the chance of making a choice between Nana Akufo-Addo, who he claimed for 30 years worked for the course of the "common man" and the NDC's Prof. Atta Mills, who "was imposed on NDC and Ghana".
On the question of why the hawkers have been allowed to move back to the street, despite government's vow to rid the streets of them, he replied: "There were certain things that were done (by the government) which were grossly insensitive."
Although Obetsebi-Lamptey conceded that the activities of the hawkers cause "inconvenience" to the public, yet, he defended what they are doing as "legitimate business.
He said the government is still working on appropriate solutions to tackle street hawking in the cities.
Story by Isaac Essel