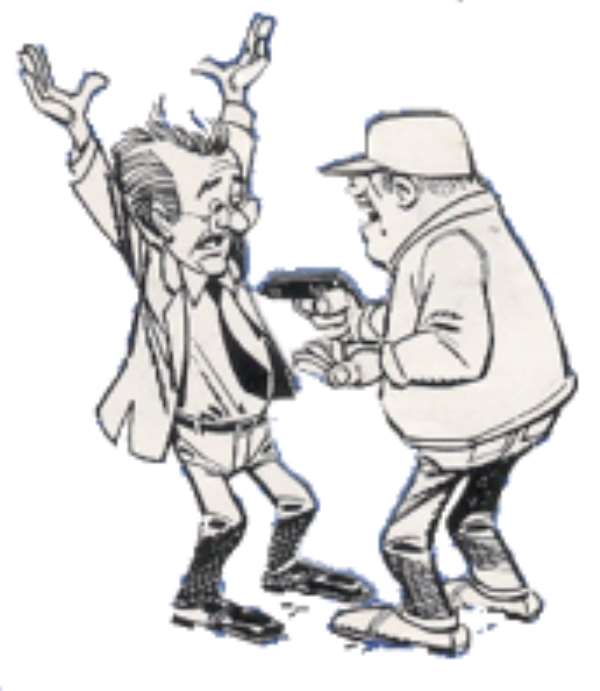 The Tema Regional Police Command has foiled two separate armed robbery attempts
in Tema township, saving the lives of their victims.
The robbers, however fled leaving their weapons
and dresses behind but the 28-year old Nigerian driver
of a taxi cap, with registration number GW 1615 Z, which had been waiting to transport the booty was apprehended and is in police custody.
Briefing newsmen, DOCP. John Kudalor, Tema Regional Commander said the robbers attacked the Mintason Forex bureau at the 'Tiwaa House' a store complex at Community Six.
He said the alarm raised by the shop owners brought all of them out while a police vehicle which was passing by also stopped at the scene and battled it out with the robbers.
Sensing danger the two robbers abandoned their operation, forced open the main gate to the stores and escaped and the driver who was still waiting sped away.
He also abandoned the taxi, painted in black and yellow colour and embossed with S976/GW but was apprehended after a chase by the police and the people around.
DOCP Kudalor said the police found AK 47 assault rifle with seven rounds of live ammunition, a black
smock and a shirt.
In another development, the Commander said the timely arrival of the police averted a robbery attempt
at the Mighty Power Company at the Free Zone enclave.
There were no casualties during the two robberies.
The Regional Commander renewed his appeal to the public to volunteer reliable information to the police
of any crime assuring of protecting their identities, noting that the fast information released to thepolice prevented the robberies.