Top Islamist returns to Somalia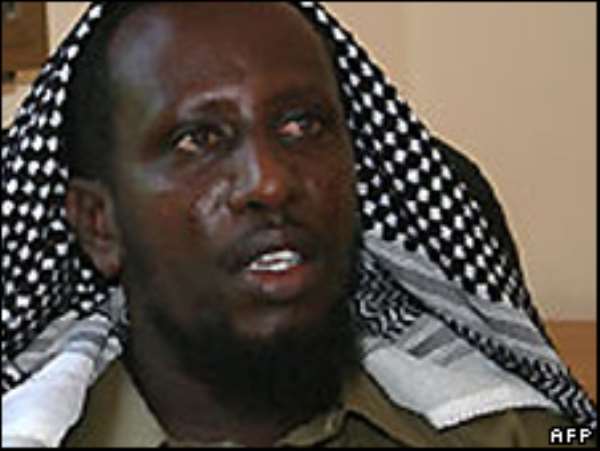 Sheikh Sharif Sheikh Ahmed backs a UN-brokered reconciliation process
One of Somalia's main Islamist leaders has returned to the Somali capital two years after being driven from power.
Sheikh Sharif Sheikh Ahmed's Union of Islamic Courts (UIC) was ousted by the Ethiopian-backed interim government.
His arrival follows a deal, between the government and the opposition movement he now leads, which should see Ethiopia withdraw its forces later this month.
The Islamist al-Shabab insurgent group that controls much of southern Somalia has not signed up to the peace deal.
Correspondents say Mr Ahmed was regarded as the more moderate of the leaders in the UIC, the group which ruled most of the country for the second half of 2006.
Islamist rival Sheikh Hassan Aweys has accused Mr Ahmed of siding with the enemy.
Somalia has been without a central government for nearly two decades and half of the population is dependent on food aid.
'Good step forward'
Mr Ahmed was welcomed at Mogadishu's main airport by members of the current government.
UN peace envoy to Somalia, Ahmedou Ould Abdallah, told the BBC it was "a good step forward" in the peace process.
In late 2006, the UIC, which Mr Ahmed headed along with Mr Aweys, was overthrown by troops from neighbouring Ethiopia - who still protect the beleaguered government they then installed.
The Ethiopian move was supported by the United States, which said the Somali Islamists had links with al-Qaeda.
BBC world affairs correspondent Mark Doyle says over the past two years Mogadishu has been the scene of violence on a scale that is unprecedented even for Somalia.
Islamist and nationalist forces have battled the Somali government and their Ethiopian allies on an almost daily basis, causing at least half a million people to flee the city into the surrounding semi-desert.