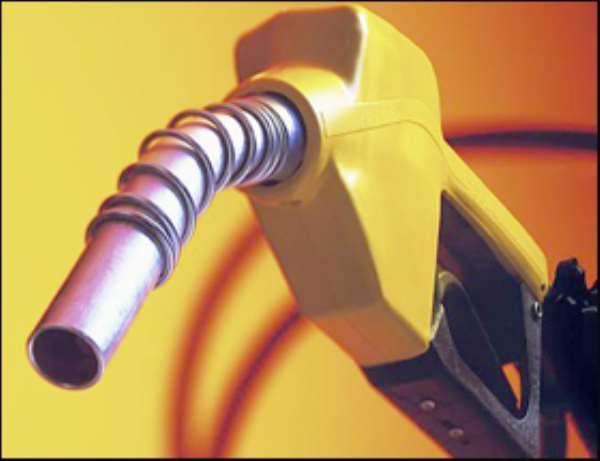 Petrol pump The prices of petrol and other fuels have gone down again in response to the reality on the international market. From a previous price of GH¢4.7 per 4.5 litres or a gallon it has fallen to GH¢3.7 as captured elsewhere in this newspaper.
It would be recalled that government took the wise decision of setting up a body to be responsible for managing the unpredictable prices of petroleum products to obviate the ado associated with such management and so ensure efficiency.
The decision was informed by the fluctuating prices of these fluids in an industry which thrives on speculations and other factors associated with the futures market.
Ever since that was done, price rises or depreciations ceased emanating directly from government but through the agency.
 This is not the first time that the National Petroleum Agency (NPA), the regulatory agency has acted to reduce the price of the commodity.
But strangely the Ghana Private Road Transport Union (GPRTU) has not done anything to reciprocate the reaction.
We wonder whether this action is not part of a grand game to give government a bad name and hang it.
The GPRTU cannot continue to cheat the good people of Ghana by throwing dust into their eyes.
Under such circumstances it is a fact that government because of the prevailing freedoms would not rush troops to go and enforce a corresponding reduction in fares.
It is not only crude to do so but indeed primordial and not a feature of modern democracies.
Although government has not even mentioned it as a way registering its abhorrence over the lethargy on the GPRTU over the refusal to reduce fares, we expect that the union would act accordingly instead of waiting to be pushed by the media to do so.
The people of Ghana deserve to be treated with respect and decorum, not the way GPRTU is doing.
We have lived with this subject of politicizing issues in a polarized country for too long and we think that a brake must be put to this crap.
Certain organizations are out to sabotage all good-intentioned initiatives of government and we are saddened by these.
We belong to one big family called Ghana whose progress we all seek but when certain persons with allegiance to previous political order begin behaving in ways inimical to the cause of this country we get concerned.
This organization called GPRTU a one-time appendage of a political party has always been quick to increase fares but rather reluctant to act correspondingly when prices of petroleum products drop.
This is unacceptable and we condemn it without mincing words.
The people of this country cannot be taken for granted any longer because they are more discerning than before.
Ghanaians cannot accept a situation where a politicized organization aligned to a political grouping will take a unilateral decision not to respond to falling prices of petroleum products in the country.
We are aware of previous noise made by a section of the leadership of the GPRTU anytime prevailing international market trends demanded price hikes in petroleum products.
Under the circumstances we are compelled to conclude that the refusal of the union to reduce fares is political and the people of Ghana will not sit unconcerned for this to continue.
We are therefore calling on the GPRTU on behalf of the good people of this country to reduce prices of petrol and other fuels without further delay.