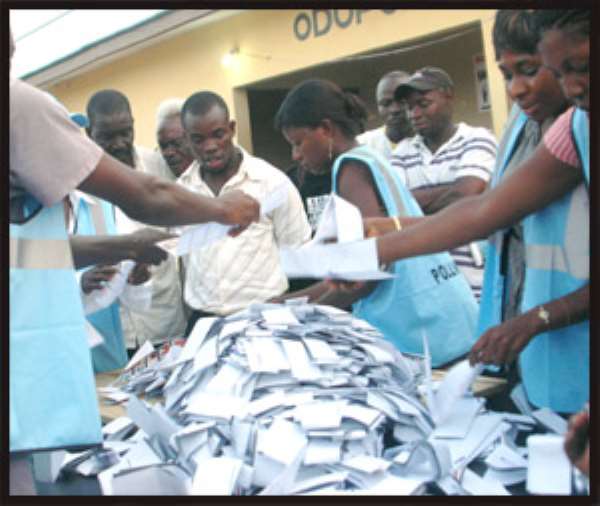 Counting of ballot papers It might be too early to attempt a post mortem of the December 7 polls but suffice it to state that certain challenges which reared their heads during the electoral exercise offer important lessons for future such elections.
Long and cumbersome queues which featured at some polling centres were discouraging. There were cases of tired persons just walking away from these centres because they could not stand the inconveniences involved.
We think that a better way of handling such arrangements is to have all persons who turn up at polling centres numbered.
These persons can then take their seats at the locations after which the figures can be mentioned to allow the voters move to cast their votes.
Such numbering can obviate the nasty scenes of people arguing and in rare cases even resorting to fisticuffs.
Another way of instilling order at such locations is to ensure orderliness because the disorder is usually discouraging to some voters and indeed puts them off.
While some queues were uncomfortably too long, others were short yet both were in the same locations.
It was interesting to hear the Director of Elections of the Electoral Commission (EC) tackle this subject when he said that his outfit had asked its officers to divert voters in long queues to others which were not that long yet in the same locations.
This directive, he noted, though had not yet been implemented.
The long queues eventually disenfranchised some voters and we do not think that should be encouraged in future.
Indeed the Elections Director also added that the EC had adequate materials like screens to make diversion of voters to other places possible.
His intervention came in the wake of complaints about very long queues in some areas especially in the nation's capital of Accra.
It does not make sense to hear people say that they did not vote because they could not weather the inconveniences of long queues at some locations.
We think that it would serve our interest if EC research on how to make voting less cumbersome.
There were cases where voters woke up as early as 3am just so they could avoid the ado of standing in long queues.
If there is order at polling centres, it would not be necessary for people to leave the warmth of their beds at those wee hours just to go and cast votes.
It is not that we think voting should not merit such sacrifices but then if there are alternatives, why should we not apply them?
Although relatively orderly as compared to previous polls, the post-election scenario is still dodgy with reports that some youth in Nima went on rampage yesterday.
They were said to be celebrating the victory of their party at a time when Dr. Afari Gyan had warned that election results had not yet been declared.
The security agencies have done wonderfully well under the circumstances and we do not have to belabour their issue other than to add that they continue with their vigilance in these critical post-election days. We also think that in a hi-tech age such as ours, the number of days that voters have to wait before learning about results must attract our attention. No matter how this is entrenched in the statute books, we think that another look of it would serve our needs. The tension which usually follows the casting of votes can be avoided when voters wait for a shorter period.