December 10, 2008
|
Election News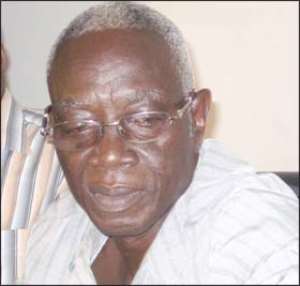 Dr Kwadwo Afari-Gyan, EC Chairman The Electoral Commission (EC) has stressed that there is no institution in the country that has the constitutional mandate to declare election results apart from the Commission.
According to a press release signed by the Chairman of the Commission, Dr. Kwadwo Afari-Gyan, in Accra yesterday, the EC advised that Ghanaians keep their fingers crossed.
The release was precipitated by the series of proclamations being made by some leading politicians in respect of the just-ended presidential and parliamentary elections.
"The Electoral Commission wished to remind all Ghanaians that it is the only body in the country authorized by law to conduct public elections and declare results."
Concerning the December 7 presidential election, Dr. Afari-Gyan said the Commission would not delay a minute when the overall results were ready, adding that the time and place for the declaration of the results would be announced at the appropriate time.
The release asked the public to, while waiting for the official declaration, rubbish any result that is churned out from unaccredited sources.
"In the meantime, the Commission urges the general public to ignore any person or group that purports to announce the final results of the 2008 presidential election".
Certain developments along the political terrain in Accra yesterday prompted the EC and the Police to caution the public on the dos and don'ts of the times.
For instance, the National Democratic Congress (NDC) yesterday held a press conference in the nation's capital during which it announced that it had won the elections.
It said going by information it had gathered, all fingers pointed to an NDC victory.
"According to certified results, the party has secured a working majority of the 230 constituencies and has also won in seven out of 10 regions.
A release signed by the party's Campaign Coordinator, Alex Segbefia, accused the ruling New Patriotic Party (NPP) of playing a psychological game in order to implement plans they has allegedly hatched.
"Knowing that it is losing the election, the NPP is up to its usual mischief. It is playing a psychological game by getting its supporters to start jubilating in preparation for implementing whatever plans they had hatched".
Hitherto, the NPP also held a press conference at the International Press Centre, stating that its presidential candidate, Nana Addo Dankwa Akufo-Addo, was cruising to victory with a 51.9 percent poll as against the NDC's Professor John Evans Atta Mills, who it claimed was hovering around 45.7 percent.
A number of media and press houses are also churning out certain figures and calling results, but the EC says all those things are illegal. By Bennett Akuaku