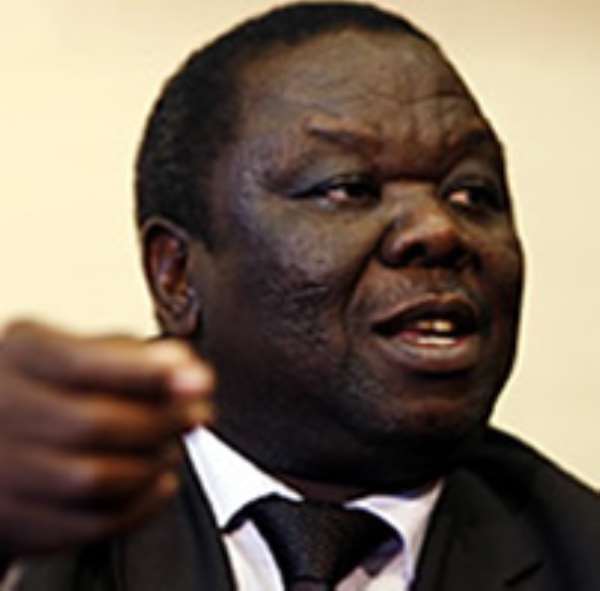 Zimbabwe's opposition MDC says an adviser to party leader Morgan Tsvangirai has been abducted in Harare.

Eyewitnesses say MDC adviser Gandhi Mudzingwa was forced by nine gunmen into a car which then drove to the city centre on Monday afternoon.
It would bring to 18 the number of MDC activists and rights campaigners who have vanished in the past six weeks.
Meanwhile, Zimbabwe's president accused the West of plotting an invasion amid a deadly cholera outbreak.
The cholera has spread to Zimbabwe's neighbours and South African Health Minister Barbara Hogan has said the epidemic will probably keep getting worse until a new government is formed in Harare.
President Robert Mugabe's ruling Zanu-PF party and Movement for Democratic Change (MDC) have been deadlocked in power-sharing negotiations since September.
The UN says nearly 600 Zimbabweans are known to have died in the outbreak, but there are fears that the number may be much higher.
On Tuesday, US President George W Bush joined calls from world leaders for President Mugabe to go.
"We urge others from the region to step up and join the growing chorus of voices calling for an end to Mugabe's tyranny," said Mr Bush, who leaves office himself next month.
African countries like Botswana and Kenya have also said Mr Mugabe should quit.
But the 53-member African Union said on Tuesday the only solution to the Zimbabwe crisis was the power-sharing talks.
"Only dialogue between the Zimbabwean parties, supported by the AU and other regional actors, can restore peace and stability to that country," said Salva Rweyemamu, a spokesman for AU chairman and Tanzanian President Jakaya Kikwete, Reuters news agency reports.
Stranglehold
The MDC says it believes there is a systematic plot to decimate its structures, as well as civil rights groups involved in cataloguing violence and human rights abuses in Zimbabwe.
The BBC's Peter Biles in Johannesburg says there is also growing concern about the fate of Zimbabwe Peace Project director Jestina Mukoko, missing since she was kidnapped from her home last Wednesday.
An urgent court application is being filed, demanding police produce her if she is in custody.
MDC leader Mr Tsvangirai has not been back in the country since he left more than a month ago to attend a summit in Johannesburg - where efforts failed again to end the political impasse in Zimbabwe.
Zimbabwean presidential spokesman George Charamba told the state-owned Herald newspaper that Western countries were planning to bring Zimbabwe before the UN Security Council by claiming the cholera epidemic and food shortages had incapacitated the country's government.
Later Zimbabwe Information Minister Sikhanyiso Ndlovu was quoted by AFP news agency as saying the cholera outbreak was under control, adding: "After squeezing and strangling the country with sanctions and contaminating it with cholera and anthrax, the West is seeking to use the window of opportunity provided by the disaster to justify military intervention."
'Critical'
Mrs Hogan said she believed the cholera situation in South Africa had been contained, although many more Zimbabweans should be expected in the country.

"We need a government in Zimbabwe and we have to move forward on that issue," she said as she led a team of health experts to assess the cholera outbreak in Limpopo province bordering Zimbabwe, where at least eight people have died from the disease and 650 people are being treated.
"It is critical - just from health alone," she said.
The BBC's Jonah Fisher in the border town of Musina says South Africa's medical services are coping so far with the scores of sick Zimbabweans crossing the border every day looking for treatment.
But there is concern that people are sleeping in the open in conditions where the easily treatable disease could spread, while sanitation is poor at the site where new arrivals are being processed.
A South African man in Musina told the BBC: "They are sleeping here, they bath here, they do everything here, so I mean, the spreading of cholera, the risk is very high."
Meanwhile, a Southern African Development Community team dispatched to Zimbabwe on Monday is continuing to look at the extent of the epidemic.
The UN children's agency Unicef has warned 60,000 cholera cases could emerge in the coming weeks.