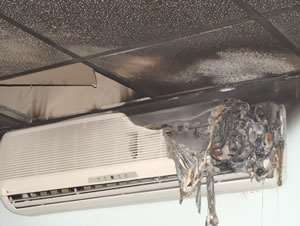 The Ghana International Press Centre at Ridge in Accra, designated as a reference point for the media in the ongoing national polls in Ghana, this afternoon recorded a fire incident that sent scores of high technical brains from the Ghana Police, Electricity Company of Ghana and the Ghana National Fire Service.
A split air-conditioner in the cybercafé room of the centre caught fire from a faulty electric terminal and sent a cloud of smoke around the area, sending officials at the centre and without running for urgent help.
Personnel of the Fire Service however arrived in no time to put out the fire, which completely destroyed the air-conditioning unit and sprayed ashes in the entire room.
Mr. Gifford Tetteh Adams, District Officer in Charge of the Operations at the Fire Service Headquarters, who led firemen to fight the fire, said power has been disconnected to the faulty fitting.
The incident also sent ECG General Manager, Mr. Adu Amankwah, hurrying to the centre after hearing the incident on radio.
Ghana Journalists Association General Secretary, Bright Blewu, assured that the fire would not disrupt expected activities there.
The centre would serve as relay centre where the Electoral Commission would be posting election results for the national polls.
By Isaac Yeboah