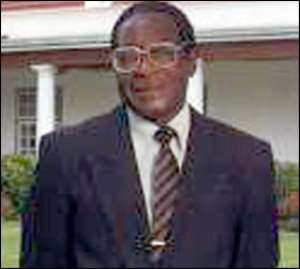 President Robert Mugabe Zimbabwe's President Robert Mugabe must resign or be sent to The Hague for the "gross violations" he has committed, Archbishop Desmond Tutu has said.
The Nobel Prize winner also told Dutch television that Mr Mugabe should be removed by force if he refuses to go.
On Thursday, Kenya's Prime Minister Raila Odinga said African governments should oust Zimbabwe's leader.
Archbishop Tutu said Mr Mugabe had ruined "a wonderful country", turning a "bread-basket" into a "basket case".
US Secretary of State Condoleezza Rice has said it is "well past time" for Mr Mugabe to go, saying a "sham election" has been followed by a "sham process of power-sharing talks".
Zimbabwe has declared a national emergency over the cholera outbreak, which has killed at least 565 people - the most deadly in the country's history.
Health workers say the collapse of the health systems and the water supply in the capital, Harare, are major reasons why the epidemic has killed so many people.
Mr Mugabe and opposition leader Morgan Tsvangirai agreed to share power in September to tackle the country's economic meltdown but they have been unable to agree on the allocation of cabinet posts.
The deadlocked agreement followed disputed elections, which both men claimed to have won.
Archbishop Tutu told the Dutch TV programme Nova: "I think now that the world must say: 'You have been responsible, with your cohorts... for gross violations, and you are going to face indictment in The Hague unless you step down.'"
Mr Tsvangirai says his supporters were the victims of a state-sponsored campaign of violence which left at least 200 dead and forced many thousands from their homes.
Referring to the cholera deaths, Ms Rice said:
"If this is not evidence to the international community to stand up for what is right, I don't know what would be. And frankly the nations of the region have to do it."
African leaders have generally refrained from criticising Mr Mugabe in public.
Although this is now starting to change, the BBC's Jonah Fisher in Johannesburg says there is no real sign that Mr Mugabe is about to be forced from power.
Mr Mugabe has meanwhile blamed Mr Tsvangirai's Movement for Democratic Change for the power-sharing impasse.
"The MDC should say no if they do not want to be part of the inclusive government," he was quoted as saying by the state-owned Herald newspaper.
Both the South African and Mozambican authorities are on alert in case the cholera epidemic spreads outside Zimbabwe.
South Africa says it will send a team of senior officials to Zimbabwe next week to see what assistance can be given.
As well as the cholera outbreak, up to half of the population - five million people - will need food aid in the coming months, donors say. Zimbabwe has the world's highest annual rate of inflation - 231,000,000% - and just one in ten adults are believed to have regular jobs.