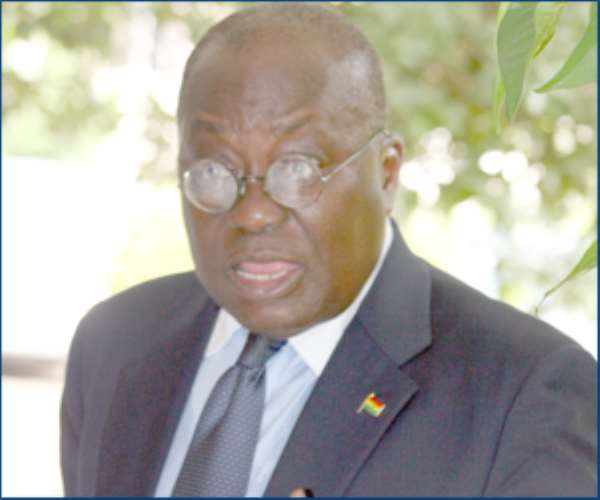 Nana Akufo Addo In a nationwide broadcast ahead of tomorrow's general elections, New Patriotic Party (NPP) presidential candidate, Nana Addo Dankwa Akufo-Addo has called on his compatriots to choose between a government that will move the nation forward to a brighter future and one which will be ruled by agents of past dark days.
The speech came some hours after a wonderful delivery by the New Patriotic Party (NPP) at the Accra Academy Park where the party held its final campaign rally.
In the speech which resonated across the country through live TV and radio broadcast, Nana as he is fondly called, asked Ghanaians to vote for their future, "for peace, and for prosperity".
Ghana, he noted, has witnessed many wasted years in the past and should not allow the squandering of the vital progress made in the last eight years.
There were governments in the country which he said were concerned only with control and repression, adding that "these ruled by fear and by depriving you of your own rights; governments that looked only to feather the nests of their supporters, rather than end the poverty of so many of our people."
He promised the building of a united and prosperous Ghana which would be "confident and at peace with itself".
Nana reminded the people of Ghana that during his campaigns he "did not seek to divide you, build tensions between ethnic groups, between regions, between rural and urban, between religions, or between any other segments in our society".
Ghanaians, he said, should no longer allow actions that turn brother against brother, sister against sister, and friend into foe, pointing out that "now is the time to draw a line between that painful past and an exciting future.
"We must as a people find accommodation for opposing views, forgive old wrongs, and work together."
Having been around for the past 30 years, Nana said, "In me you have someone who has been steadfast in the struggle for democracy and freedom in our nation."
Democracy, respect for human rights and the rule of law, he assured, would be safe under his presidency.
The presidential candidate told Ghanaians that he would bring to the presidency the qualities of commitment, integrity, hard work and a team spirit.
These qualities, he stressed, he would demand at every level of government, adding, "That is who I am, and it is my promise to the Ghanaian people."
He said his vision for Ghana is an ambitious one, explaining that "it is a vision which has been inspired and given life over the course of this campaign by the many Ghanaians I have had the privilege to meet.
It is inspired by the many women who told me that for them, this election is about free maternal care and about free education and health insurance for children's future. It is a vision inspired by the young people I have spoken with for whom this election is about being able to plan for successful, secure futures here in Ghana."
Turning his attention to those who think his plans are pipe-dreams, he said, "They said the same thing about free education and health; they said the same thing about our economic plans, and yet  we delivered.
Nana said he dreams of "a nation at peace, prosperous and generous, a beacon of hope to Africa and the world; a proud African lion striding into the future with confidence, secure in the knowledge that here on this continent, we are a nation of destiny, an example not just for our age but for all ages." By A.R. Gomda