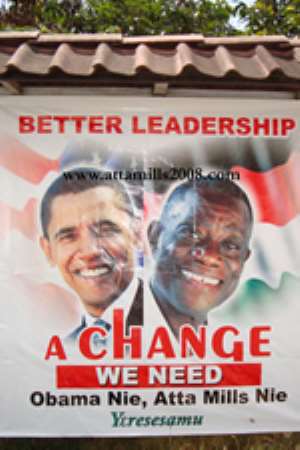 Dear Osagyefo,
Forgive my insubordinate self for not keeping in touch. I know my letters have become occasional but it's not because you didn't send me that stimulus package. I will change. But as you can guess, there is an occasion. Coming up in two days is the election in Ghana. Ghana will be electing a new president as Traveller John steps down after two-terms. We know for sure there will be a change in who our first citizen is. Would there be a change in what our first citizen does? The world is looking at Ghana wondering if we'll pass another test in our democracy. We'll be praying for peace and a free and fair election.
Kwame, people are saying Ghanaians are too 'chill' for post-election violence in case some group of people feel there is a stolen verdict. Kenya and Zimbabwe cannot happen in Ghana they say. Some credit you for pushing unity amongst Ghanaians, overseeing the development of our education system which encouraged Ghanaians to leave their hometowns and settle in areas where their mother tongue was not spoken and children attending boarding schools all over the country. Kenya has done similar things so what is so different about Ghanaians? It's because we have seen what happened there and various campaigns have been waged to curtail any violence. I think the presidential candidates should have joined Junior Judas and Traveller John in a short video to preach peace as well. We haven't taken this thing too seriously.
Did you hear the Defence Minister saying he'll send his kids outside if there was violence? He's obviously prepared to defend the security and safety of Ghanaians but can't do a good enough job protecting his own children. Reports say the NDC's General Mosquito has already flown his university children out to Canada. Apparently, they have already taken their exams. Osagyefo, you know General Mosquito right? He's in the thick of almost every demonstration against the present government. He looks like a guy who would actually start trouble with that mouth that worries him. What about those of us who spend countless days at the American embassy seeking visas? What are we doing wrong? We have to get adopted by the Defence minister?
Ghanaians are calling for a free and fair election. Rumour has it that if anyone tried to walk to a polling station to whisk a ballot box away, he/she'll be shot by the police. That's a scarier thought than the machoman demanding a ballot box. Osagyefo, are we unable to have free and fair elections? No matter who wins, we'll all be Ghanaians. Since when did politics become our daily bread? Politics doesn't put food on the table but in Ghana, it is increasingly becoming the case. Networking would get you a few friends but politicking would get you contracts. It is becoming a necessary evil. This must change.
Kwame, we had two presidential debates this year. Correct me if I am wrong, but we had the first vice-presidential debate too. Did you also have a Northerner as your running-mate? The PNC, which is led by a Northerner, continued to blaze the trail by choosing a female running mate. Apparently Petra Amegashie is either not as dumb, or charismatic, or beautiful, so she hasn't warranted any crazy media attention. The other three parties with represenation in parliament have Northern running mates. Our political parties have been pleasing the North with every electoral ticket but we are yet to see any serious development in that area. Are we Ghanaians so gullible? If you think post-election violence is foreign to Ghana, look at Gushiegu. Osagyefo, google it. People have already lost their lives in this election year. We have to fix and pay more attention to the North.

The NDC elected their candidate first. John Atta Mills won handily. They believed that if they put Asomdwoe hene's face on the ballot, Ghanaians would wonder, "This guy keeps on showing up here. This time, I should vote for him'. They believe he'll be third time lucky as he also has the third position. They started with a message of Sankofa, going back for the NDC. Now they are using the Change platform, having stole the Yeresesamu slogan from their CPP siblings. The three Johns (Rawlings, Atta Mills, Mahama) have been unleashed on the electorate. Atta Mills says he is a better man for a better Ghana. They have even started using Mills-Obama posters talking about better leadership. Obama nie, Atta Mills nie. They say the US elephant is gone to the bush, the Ghana elephant is going. Obama is running for vice president in Ghana, Kwame. Apparently, he's scared of the US job and its attendant responsibility.

Your party, the CPP elected their candidate next. Paa Kwesi Nduom, who had resigned from the NPP government, won. People said he was an NPP man infiltrating your political tradition to destroy the party. People still call him a crook. Nduom has brought entertainment to the political scene and some people call him a joker. He even sang at one of the debates and drew laughter a couple other times. He's crowned himself Edwumawura and has championed the 'Yeresesamu' phrase from day one. He has called himself Ghana's Obama and he is calling for 'change you can feel in your pockets'. The CPP is not the same party it was in your time, Osagyefo, some of its 'members' are in the NDC, the PNC and some are doing political prostitution with the NPP. While your son Sekou is chilling with the NDC, your daughter Samia is running for the Jomoro parliamentary seat. They are in the sixth position on the ballot.

The PNC came next, choosing Edward Mahama. They must have thought the same way the NDC did when they chose Mills. Mahama would be running for a fourth time. Their message has remained the same since 1996. "Eye kube". "Too-sure, too-direct". They think it's coincidental they are on the ballot's second position because they are two-sure, two-direct. What does that mean anyway? He's bringing real change, real hope, real choice. What does Mahama even do when there is no election? Stay at his hospital? We know for sure he travels to Nigeria because he mentioned it in the debates. He does know his profession well enough to say this about pregnant girls sacked from school- "The Child Is In The Womb Not The Brain". Do you know Hilla Limann's family apparently endorsed Nduom instead of Edward Mahama? The PNC and CPP should have united.
The NPP had their primaries last and chose Nana Akufo Addo. He didn't get the needed votes to win but his main challenger, Alan Cash, conceded defeat thus preventing a second round. Some people called it party unity. Later on, Alan Cash (who was supposedly backed by Traveller John) resigned from the party and was persuaded to join again. Akufo Addo's message has been 'I believe in Ghana'. He believes in living Ghanaians because nothing has been done about those 44 who died in Gambia. Or Osagyefo, has something been done? Akufo Addo has been at the frontline of politics for 30 years, we know him long time. The NPP says we are moving forward so we should keep the same government. To them, changing things would be a mistake at this time. They are going high like the kangaroo.
We also have the independent Kwesi Amoafo Yeboah, the RPD's Kwabena Adjei, the DFP's Emmanuel Ansah Antwi and the good old Thomas Ward-Brew of the DPP. Obed Asamoah's DFP couldn't get Kwesi Botchwey to stand? Sad. Some of their leaders have cross-carpeted to the NPP. Kwabena Adjei doesn't have friends in the press. We hardly heard anything about them. Ward-Brew decided to break free of NDC and is standing on his own. Kwesi is like the first independent candidate ever and he said he had a way to get one million supporters in 3 months. I guess he's content with that number but he's also said he'll accept one vote in the election. Statements that make you go hmmm. Osagyefo, we have 8 presidential candidates. Eight! In 2008. Appropriate. Dan Lartey was late. He couldn't get the money to participate. He threatened to the EC to a court date. Dan is a character, mate. He has good ideas but he is six years short of eighty-eight. We will miss Mr. Domesticate.
Osagyefo, so there, you have the athletes in the eight lanes. They want the mandate to be the first citizen of Ghana. I have always said we have had presidents in Ghana and not leaders. I pray that Ghana elects a leader this time or whoever we elects acts as one. We want a leader for all of Ghana, and not of one political party. A leader all Ghanaians would believe in and rally around. A lot of us have lost faith in the political process, calling all politicians the same. Some have been disenfranchised because they couldn't register in the window of time the EC stipulated and others can't be bothered. Osagyefo, we need leaders we can support and trust. Competent ones. Leaders who can get things done and satisfy our interests. I can claim that you were one before you went crazy. We still remember your good deeds but while you sought a unified state, you alienated your opponents. We want unity beyond ideology, tribe, location, religion, assets and salary. Let's pray for a peaceful election and may our conscience guide us as we vote.
Forward ever,
Maximus
Maximus Ojah writes the Letters to Osagyefo.
You can find more at http://ghanaconscious.ghanathink.org/blogs/nwia