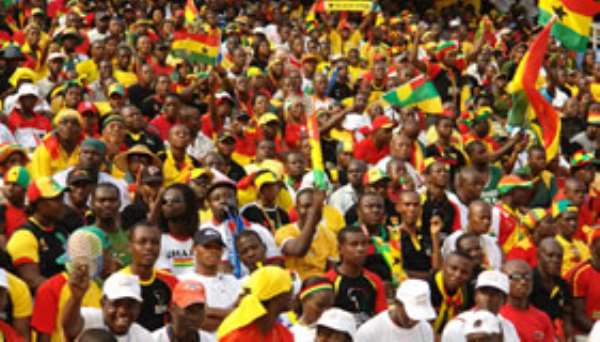 Nearly 12.5 million Ghanaians are eligible to vote in presidential and parliamentary elections across the country on Sunday.
The Electoral Commission has registered 12,472,864 (Twelve million, four hundred and seventy-two thousand, eight hundred and sixty-four) eligible voters for the December 7 general elections, started in part on Tuesday December 2, when a special voting exercise for persons whose services may be needed on Sunday was conducted.
The EC is opening 21,008 polling stations in 230 constituencies for the exercise, the fifth since Ghana returned to constitutional rule in 1992.
Some polling stations have as high as 3,944 (TMA PRIMARY SCHOOL NMAIDJOR, TEMA constituency) and eligible voters 3,306 (D C PRIMARY SCHOOL KWABENYA in the GA EAST constituency) while others have as few as 5, (OPEN SPACE KONKONSE in the SENE constituency of BRONG AHAFO) and 7, (OPEN SPACE JINJICONGO) also in the same constituency.
Ghana must elect a president to succeed outgoing John Agyekum Kufuor, who has successfully served two successive four-year terms, the maximum anyone can have under Ghana's Constitution.
Eight persons are contesting the slot. They include Nana Addo Dankwa Akufo-Addo of the New Patriotic Party, Dr Edward Nasigri Mahama of the People's National Convention, John Evans Atta Mills of the National Democratic Congress, Mr Emmanuel Ansah-Antwi of the Democratic Freedom Party and Thomas Nuako Ward-Brew of the Democratic People's Party.
The rest are Dr. Papa Kwesi Nduom of the Convention People's Party, Mr. Kwabena Adjei of the Reformed Patriotic Democrats and Mr. Kwesi Amoafo-Yeboah, Independent.
Various polls have predicted inconsistent outcomes in the presidential race, for while some see a onetouch victories of some of the candidates, others have predicted a run-off.
The Electoral Commission has assured it is ready to go the full hog if the need for a second round arises, and early Friday morning, busloads of security personnel were being distributed to various parts of the country to help with the conduct of the polls.
Story by Isaac Yeboah