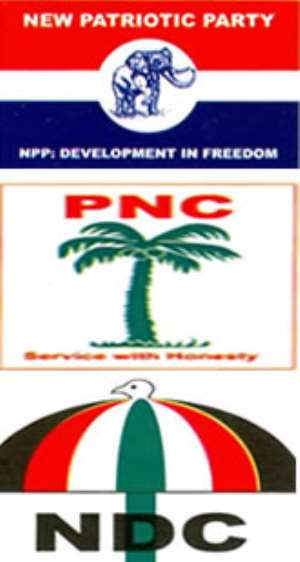 Three political parties contesting the December 7 elections have engaged in what could be described as the final push for votes ahead of Sunday's polls.
Koku Anyidoho, Yaw Osafo Maafo and Susan Adu-Amankwaah of the NDC NPP and CPP respectively, on Front Page, a weekly news analysis programme on Joy FM, clearly elaborated why their parties must be given the nod to rule the country for the next four years.
In one of the most cordial discussions devoid of the usual accusations and counter accusations, Koku Anyidoho, head of communications of the Atta Mills campaign team said the NPP was on trial for its eight years of failed promises.
According to him, the economic policies of the Kufuor administration had imposed a high cost of living on the masses, something an Atta Mills government would change.
A vote for Akufo-Addo, he said, would be a continuation of the failed promises.
When programme host Kweku Sakyi Addo asked if prices of electricity and fuel would be reduced in an Atta Mills government, Mr. Anyidoho responded in the affirmative, saying, the NDC would run a people centred government.
He said the tax components on fuel would be taken off immediately with tax reliefs granted workers in the first 100 days in an Atta Mills government.
He reiterated the party's call on the electorates to vote for the better person for a better Ghana.
In a sharp rebuttal, Former Finance Minister, Yaw Osafo Maafo said the NPP had delivered on the promises it made to Ghanaians on assumption of Office in 2001.
He cited the change in cash and carry to the National Health Insurance Scheme, as well as the Capitation Grant and School Feeding project, two educational policies which he said, have reduced the cost of education and increased enrolment.
These social interventions, he said have remarkably benefited majority of Ghanaians.
Mr. Maafo said there has been a remarkable infrastructural development in the country, with a simultaneous construction of all major roads in the country.

On the economy, Mr. Maafo said the NPP has transformed what he described as the "chaotic economy" it inherited in 2001.
According to him, the NPP has proven to be the best managers of the economy, saying, at crude oil price of 36 dollars per barrel, in 2000, inflation was hovering at 41%, but at an incredible price of $147, inflation has been reduced to 17%.
He asked voters to allow the New Patriotic Party to build on its solid economic achievements by voting massively for Nana Akufo-Addo on Sunday.
Susan Adu-Amankwaah of CPP said the major preoccupation of Dr. Paa Kwesi Nduom was to provide jobs for the youth.
According to her, the CPP government under Dr. Nduom would ensure appropriate state interventions to boost and transform the economy and make life more comfortable for all Ghanaians.
Story by Nathan Gadugah