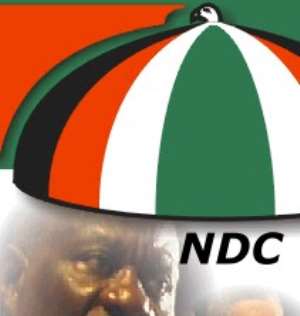 As an independent voter, this year's election campaign has been a disappointment to me, first and foremost because the NDC's failure to mount a credible platform against the NPP and present us with a serious, electable alternative to the current government has left us with an obvious choice, come December 7. 
In fact the failure of the NDC's campaign strategy in 2008 has cost them the elections and consigned them to another term in opposition, leaving the door wide open for the ruling party to romp home to another victory.
Over the last few months we have witnessed a party struggling to articulate a comprehensive vision, message and alternatives to NPP policies; a party lacking popular appeal, excitement and momentum; a party struggling to shed of its violent past; a leader struggling with health and anger issues, a founder struggling with absolute control of the party; a hitherto clean running mate bedevilled by a negative campaign strategy and a campaign team of novices lacking strategic ideas. The result: the NDC has given away an election that they could have won.
A recent caller to an Accra radio station called them the "National Allegations Party'- because of the bogus numerous allegations they have thrown at Ghanaians.
Another called them 'desperate and violent' because of their broodingly confrontational attitude and low blows.
 But I see their defensive, hostile stance as the result of a feeling that they are 'battered and embarrassed' by the apparent fourth defeat staring them in the face come December 7th.
Atta Mills must be used to defeats now, having lost three successive elections to Kufuor.  But he should have learnt from these defeats and come back wiser and stronger.
He has had two years since being elected flagbearer for the NDC once again to craft a vision for Ghana and a message for Ghanaians as they go to the polls in 2008.
But on this he has manifestly failed and throughout his campaign the only 'vision' that he has been able to come up with is that Nana Akufo-Addo's vision is not possible. Conspicuously, he did not learn enough from past defeats to make
December 7th feel like a bull fight for the voters' hearts and minds.
Former president Jerry Rawlings has taken the stand of a staunch militant by issuing threats and fomenting violence across the country.
 As astute as Ghanaians are, nobody can discern what the former coup-maker has up his sleeves, but the aggressiveness with which he is soliciting the mandate of Ghanaians leaves much to be desired.
His emotional engagement with Ghana and with ruling the country has gotten the better of him in his utterances and the aggressiveness with which he hijacked the party's manifesto launch shows beyond doubt that he would be in power if Atta Mills was ever in government. 
The NDC's team, comprising a dozen rookies and seasoned politicians, is in disarray, with firings and hirings mid-stream, disassociations from utterances and tribal camps. 
Their inability to craft a formidable campaign strategy combined with their past performance in government suggests that they would be unable to consolidate the current gains made by the Kufuor administration let alone fathom how to move Ghana forward.
I love Atta Mills for his patriotism and his obvious heartfelt passion for Ghana, but his anger and outbursts on national TV now seem fake or even manufactured at best.
Mills, the son of poor parents (a teacher and a trader) attained the highest level of education at the age of 27 - a feat I admire and one that has not been repeated by many Ghanaians.
Growing up poor means that he has firsthand experience with poverty but it seems that when he rose to the upper-middle class of Ghanaian society he forgot the poor.
All his adult middle class life, he never fought for the poor and marginalised: instead he chaired the economic management team that crippled the economy, impoverishing us all whilst never convincing his social democratic friends to institute pro-poor policies when they had the opportunity in government.
 This left the way open for the NPP to take advantage of this failure, which they have done in dramatic fashion with the implementation of the National Health Insurance Scheme, the Capitation Grant, School Feeding, MASloc, NYEP and the LEAP programs to provide for the most vulnerable and poor in our society.
It is a serious indictment on the party of 'social democrats' that their achievements for the poor cannot stack up to those of the NPP.
The NDC appears to have lost its bearings in the run-up to the December polls and there is now a great level of uncertainty surrounding them. After three consecutive defeats, they knew the way forward was change, but when it came to why and how they had no idea.
The party strategists have appeared so fixated with negative propaganda that they have relegated positive campaign messages to the background.
They have run their campaign in such an amateurish way that they have had to resort to copying other parties' strategies and simply promising to build on the policies of the NPP administration, because they had failed to craft new and appealing policies of their own. They copied the 'yeresesamu' slogan and dance from poor CPP and the NPP manifesto in totality. 
Even more absurdly, after Obama's historical win, the party was so desperate for a fraction of the momentum that America's first black president commanded that they quickly made him the face of their campaign, relegating John Mahama to the stands, which would have been humorous if it were not so moronic.
The elections are now just a few days away and Atta-Mills has sadly failed to be the magnetic figure the NDC needed to attract independent voters like me.
I believe that he is a good man and a smart man, but he would be best advised to give up being the serial loser Rawlings has turned him into and go back to academia where he was a luminary.
And as for the party: they should fire the campaign manager, go back to the drawing table and re-group for the 2012 elections.
They should do this with the mindset that what is required is not just a superficial rebranding or changing of the colours of the party but instead a holistic change in hearts, minds, thinking and attitudes is required if they are to convince Ghanaians to trust them to run the country again.
Good luck in 2012!
Oheneba Amoako- Boateng is an Ivy-League educated Political Analyst.
Email:[email protected]