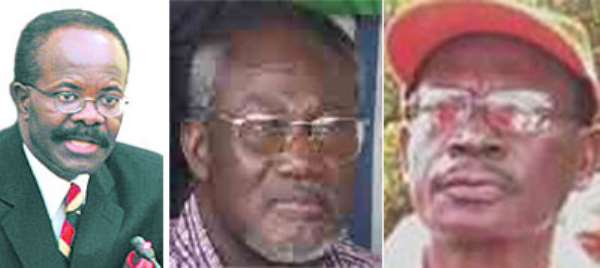 THE THREE opposition parliamentary candidates, for the Bibiani-Anwiaso-Bekwai constituency in the Western Region, have said that they would resist any attempt by the Electoral Commission (EC), to allow non-residents elect the next Member of Parliament (MP) for the area.
According to them, they had been reliably informed that the EC had transferred voters from nearby constituencies, precisely Nyinahini and Wiawso, to vote in the December 7 elections in the constituency.
The candidates are Seidu Paakuma Adamu of the National Democratic Congress (NDC), Gyasi Newlove of the Convention People's Party (CPP) and Mrs. Alice Philipa Gyamfi, parliamentary aspirant for the Democratic Freedom Party (DFP).
In a press conference, organised last Friday in Kumasi, the three opposition parties candidates expressed resentment over the transfer of potential voters in the constituency, and said there were inaccuracies of figures in the EC's transfer list.
Mr. Gyasi Newlove, CPP parliamentary candidate for the constituency, said the Bibaini EC had put in the public domain, at the recent Assembly sitting, that the EC had put 1,800 voters on the transfer list, while at an Inter Party Advisory Committee (IPAC) meeting, the figure quoted to them was 1,727.
According to him, the three parties had complained to Mr. Eric Owusu, the District Electoral Officer, but his answer was not convincing. Mr. Gyasi said if their grievances were not solved before the election day, they would not allow non-residents of the constituency to vote, for which reason their polling agents had been instructed to insist on the right people, by adequately identifying their residences in the constituency, as stipulated by law.
He continued that since the New Patriotic Party (NPP) opted out from one of their meetings, and stated later that they were in support of the EC's stand, to allow all those who had transferred their votes to the constituency, irrespective of where they were coming from, really signified that the EC wanted to do things in favor of the incumbent NPP MP of the constituency, Mr. Christopher Addai. He, therefore, cautioned non-residents of the constituency, to desist from going to vote in the constituency, in their own interest and safety.