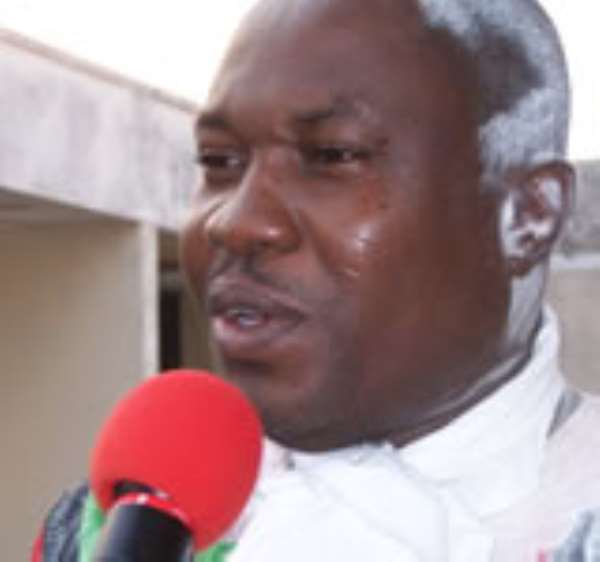 The National Organiser of the main opposition National Democratic Congress (NDC) has rubbished assertions by the New Patriotic Party (NPP) that results from latest independent polls guarantee a first round win for the ruling party.
Recent polls conducted by the BNI and other independent bodies have predicted victory for the NPP over the NDC by a wide margin.
But in an interview with Accra-based Citi FM, Mr Ampofo maintains the NDC had in past elections polled percentages hovering between 44 and 45, "and that should tell you that our core support base is intact."
Mr Ampofo said no effort by the ruling government or any other entity would be able to affect that margin.
He said although President Kufuor had predicted a landslide victory for the NPP in the Volta Region in the run-up to the 2000 elections, "perhaps due to the huge rallies the NPP had been organising in the region", the votes proved him wrong.
He said the NPP's wins in the last two presidential elections held a plethora of unanswered questions as there were reports of rigging and other electoral malfeasance perpetrated by the party.
"We believe that there were certain issues which if had been investigated properly, this 52 percent which for me is still questionable, NPP wouldn't have had it," he said.
He maintained that the NPP was only given the mandate in the 2000 polls because Ghanaians already had had an urge for a change in government.
Mr Ampofo said after eight years of "suffering under the harsh rule" of the NPP, the electorate are now eager for another change.
"Our work on the ground indicates that Ghanaians are fed up with the NPP; Ghanaians are suffering and are calling for a change.
"For us we believe this is the time to even woo more floating voters to our side," he stated.
He said any poll that puts the NPP ahead of the NDC would be sheer deception and wild propaganda geared towards marshalling support for a ruling party bound to lose in the December polls, adding, "It is not a reflection of exactly what the ground is."
Meanwhile the campaign director of the NPP, Dr Kofi Konadu Apraku says the fact that most of the polls had been conducted by independent bodies that had no political leanings points to the authenticity of their results.
Dr Apraku said on no grounds must results of polls conducted by organisations such as Research International and Primary Research Associates be doubted as these organisations hold tremendous international repute.
Story by Fiifi Koomson