No Amount Too Big For Security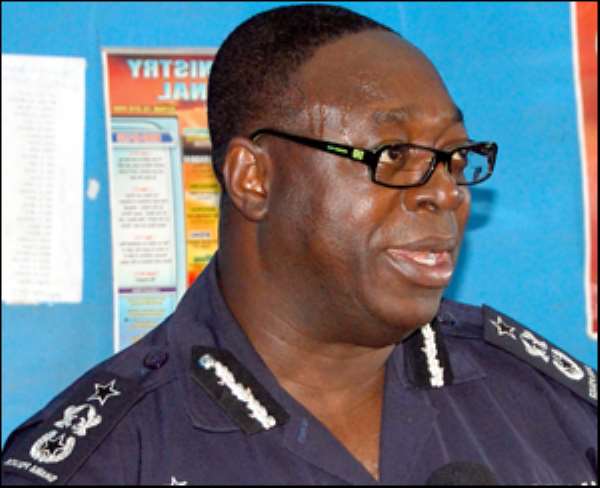 Patrick Acheampong (IGP) "Ghana will burn and blood will flow if…" is a mantra Ghanaians are used to hearing from a man whose penchant for destabilizing governments is household knowledge in the country.
 
Destabilization of governments is not a new thing in our part of the world and it took conscious and deliberate action to keep it in check.
In fact when the President John Agyekum Kufuor administration took off, many on the other side of the political divide expected it to fumble in the face of subtle undermining activities of the former president. Survive it did, thanks to the existence of an efficient national security apparatus.
We have been forewarned by former President Jerry John Rawlings about something sinister going to happen to this country should his party the National Democratic Congress (NDC) lose the forthcoming polls.
This alongside other blood-curdling remarks by someone who once presided over this country is not to be taken lightly.
 One thing we should not allow to happen in Ghana is an intelligence failing because that would be playing into the hands of those who are intent on creating confusion in the country.
Ample evidence exists to buttress our fears as a nation that given the chance those who have coup making as part of their CVs, would not mind trying it again.
Must we therefore fold our arms and watch as Mr. Rawlings spews dangerous remarks intended to incite a section of the country against the rest?
Must the government, elected by the people to lead them be indifferent when there are clear intentions by a few Ghanaians to disturb the peace of the country?
Are we not dealing with a de ja vu affair?
The late Dr. Hilla Limann decided to treat imminent threats with kid's gloves and paid dearly for the blunder.
In fact the fallout of what befell Limann is being felt today in the form of the fanning of confusion by Rawlings.
The role of the national security apparatus at times like we are in now cannot be over-emphasised and we are pleased to note that government has rendered the necessary support for this department to discharge its statutory functions efficiently.
These are critical moments in the history of this country and we are not oblivious to the machinations by a few persons to toy with her destiny.
We disagree therefore with those who consider $5m for the maintenance of national security as outrageous.
It is easy to go on air and condemn things but national security management is not as simple as engaging in flim flam talks on the airwaves.
Really no amount can be placed on the peace of Ghana let alone allow the blood of any of her sons or daughters to be spilled because of an election.
No blood should be spilled is what Nana Akufo-Addo has always pleaded with Ghanaians. We can diffuse the efforts of the mischievous elements in our midst by strengthening the national security apparatus at whatever cost this demands.
It appears there is a certain misconception about the operations of the national security department.
It's supervisory and coordination role for all the security agencies, and the gathering and managing of intelligence information is something many do not understand and appreciate.
Mr. Rawlings gave unfettered access to the national kitty to his national security council and this no doubt accounted for the longevity of his P(NDC) regime even in the face of attempts to abort it.
What could Capt Kojo Tsikata and Mr. Kofi Totobi-Quakyi not do with state funds in the name of national security in their hey days?
For us, anybody who attempts sneering at the amount of money being expended on the national security apparatus in these critical days of our history is subtly asking us to allow Rawlings to disturb the peace of this country. Is that what we should do at this stage of our national development? Certainly not.