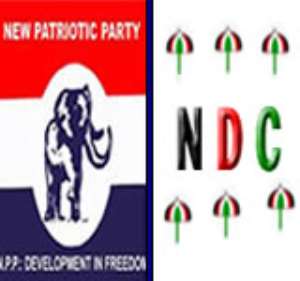 Jermaine Nkrumah
Much has been said about how Ghana's New Patriotic Party (NPP) is politically aligned with the Republican Party in the USA and the National Democratic Congress is aligned with the Democratic Party. Thus, with the Republicans and the NPP in executive power and the Democrats and the NDC in opposition, many are translating the Democratic take over of the White House to an inevitable NDC take over of the Flagstaff House. But here are ten reasons why they could not be more wrong:
Number Ten – Ideas over Insults
When people are desperate, their frustration shows in the language they use and the lies they tell on the campaign trail. As the Republican candidates called Obama "terrorist," which he is obviously not, the NDC candidates were calling Nana Akufo-Addo a "drug dealer," which he is clearly not. Conversely, the progressive candidates like Senator Obama and Nana Akufo-Addo spend their time articulating their nation building ideas to the massive crowds that continue to turn up at their rallies. Like American voters, Ghanaian voters are more interested in what their candidates plan to do for their country than their opponents' name-calling.
Number Nine – The Market Factor
When George W. Bush assumed office in January of 2001, the Dow Jones Industrial Average was over 10,000 points. By the time Americans went to the polls in November of 2008, the Dow Jones had plummeted from its illusionary peak of 14,000 to 8,000 points reacting to a global economic crisis that a Liaises Faire Bush economic policy had helped to usher in. Meanwhile in Ghana, President John Agyekum Kufuor assumed office in January of 2001 when the Stock Exchange in Ghana was barely noticeable on the radar. Nearly eight years later in October of 2008, Ghana's Stock Exchange was the top performing market in the entire world in terms of aggregate gains amidst global slumps. These markets are the barometer by which economic health of nations are measured.
Number Eight – The Crowd Factor
Whether it was Berlin, Germany or Chicago, Illinois, Candidate Barack Obama attracted crowds unseen in American politics before. Conversely, Candidate John McCain had to rent buses to ferry people to his rallies. This disparity is well in play in Ghana today. Whether it is in Ho, Volta Region, or Koforidua in the Eastern Region, Nana Akufo-Addo is speaking to seas of people. Meanwhile in pictures of Atta Mills rallies, one can notice the facial features of people in the last row of the crowd. Yes, crowds are different from votes, but when a candidate's following constitutes somewhat of a movement, rarely does that movement not translate into electoral landslide as was the case in the United States.
Number Seven – Presidential Popularity Index
Let's compare the two sitting term-limited presidents. One is inarticulate, goofy, and highly unpopular. So unpopular is Bush that no Republican candidate liked to mention his name on the campaign trail let alone be seen with him. Interestingly enough, his shadow loomed larger than the elephant at their campaign rallies. President Kufuor is different. All NPP candidates are proud to have him on their trail because his handling of the nation's affairs ranging from the economy to global Ghanaian appeal has been nothing short of exemplary. Simply put, President Kufuor is popular among Ghanaians; Bush is highly unpopular among Americans, and the election was a referendum on sitting administrations, NPP wins while the Republicans lose.
Number Six – Freedom Versus Intimidation
The styles and doctrines of the NPP and the Democratic Party Ghana could not be more similar. NPP stands for individual freedom as does the Democratic Party. The two parties put their countries first, ahead of individual or personal interests; they both welcome and embrace diverse people and ideas; on foreign policy, the two parties believe in peace and diplomacy. The Republicans and the NDC party also share a set of similar doctrines and styles. They both believe in inhibiting personal freedoms; one party favors a senseless war as long as it creates an enabling environment to sell more ammunitions that their friends manufacture, and the other is willing to throw the nation into civil disorder if it does not win an upcoming election; the Republican party has historically been a tow-the-line party, which is similar to the NDC where members are sent packing for opposing the Master; and finally, the NDC administration was very antagonistic with neighboring countries in the 1990s just as the Republican administration under Reagan, Bush Senior and Bush Junior have all taken antagonistic approach to foreign policy.
Number Five – Candidate Readiness
Although Professor Atta Mills has been Vice President of our republic before, his grasp of issues facing our country today is very amateurish as was made evident at recent debates. Conversely, Nana Akufo-Addo's familiarity of the issues and his well-articulated vision for our nation was so obvious during that same debate that one foreign observer, after watching the debates, commented "that guy with the NPP is very clearly the one ready for the job." That readiness disparity was also obvious between McCain and Obama. First, there is the composure difference. During their debates, McCain could hardly maintain his composure while Obama was as cool as ever. Then there was the economic crisis and their respective reactions to it. As McCain changed his positions and reactions to the crisis on a daily basis, Obama consulted with experts to gain more understanding before making public statements or reacting to it in a consistent manner. Lastly, these leadership qualities that catapulted Obama to victory are the same ones Nana Akufo-Addo has exhibited throughout the campaign.
Number Four – The State of Affairs
The current state of affairs in United States was characterized as "the worst economic crisis since The Great Depression." People are losing their homes because they cannot afford the mortgages, and that trend has caused a ripple effect in the banking and financial systems resulting in a choking of the economy. Unemployment is at a 14-year high. Ghana, on the other hand is on the rise. The World Bank has determined Ghana to be the best business destination in Africa. People are buying homes at a rapid pace; the banking industry's confidence shows in the way it is issuing loans to the business sector; and unemployment has dropped more than ten percentage points since its peak at 2001 when the Kufuor administration assumed office.
Number Three – Let's Talk about Change
When a guy wearing dirty clothes decides to change into clean clothes, the guy already in clean clothes does not change clothes for the sake of changing; he rather improves upon the clothes he is wearing. Ghana went from dirty clothes in 2001 to better looking clothes in 2008.To that end, the buzzword must be improvement, not change. That is why the NPP campaign theme of "moving forward" aptly captures the whole essence of this election vis-avis the current state of affairs in Ghana. Besides, when people call for change in Ghana, what change are they advocating? Should we change from economic growth? Should we change from personal freedoms? Should we change from infrastructural developments? Or should we change back to the dark Rawlings/NDC days of looking over our shoulders each time we felt the need to express our opinions, judge killings, and missing oil tankers?
Number Two – Akufo-Addo is no McCain
Nana Akufo-Addo is visionary in a way that McCain is not; he is articulate in a way that McCain is not; his choice of running mate was pragmatic in a way that McCain's was not; his experience covers as broad a spectrum as that of McCain's is limited to a single issue; he is global in outlook while McCain is myopic; Nana's following covers all of Ghana while McCain's following was limited to one racial group; finally, Nana is charismatic in a way that McCain is certainly not.
Number One – Atta Mills is no Obama
Obama is visionary in a way that Mills is not; he is articulate in a way that Mills, despite his academic achievement, is not; he is young and vibrant in a way that Mills is not; he went head-to-head with the almost anointed Clintons to stand on his own while Mills still languishes under the shadow of the Rawlings'; he is global in outlook while Mills is myopic; Obama's following covers all of United States while Mills' following is regional in scope; finally, Obama is charismatic in a way that Mills is certainly not.