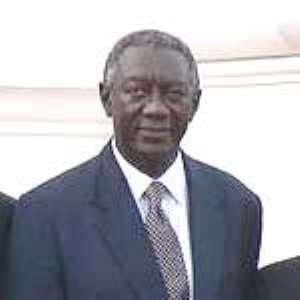 President John Agyekum Kufour, has described this year's elections as the period that would determine the future of the youth.
He said the NPP is a party that believes in the welfare of the youth and would therefore do everything possible to lift their living standard by creating more jobs when giving another chance towards nation's development.
President Kufuor said this when he addressed a large crowd of party supporters and activists in Sunyani at the weekend.
He noted that at all the regions he had visited, people especially the youth had understood the party's policies and therefore had shown confidence to vote to retain the NPP in office come December 7, 2008.
He stated that the NPP had instituted several measures that would move the nation to a higher level, some of which he could not complete and Nana Akufo-Addo the party's presidential candidate would come to complete.
"NPP has better structures and policies that would help the people of this country and that is the reason why people have shown much interest in the party," he added.
President Kufour, therefore, appealed to the public to vote massively for Nana Akufo-Addo and the various parliamentary candidates of the party to enable them to have the mandate to provide a comfortable life for Ghanaians.
Nana Akufo-Addo urged Ghanaians to have faith in him and pledged that their welfare would be a major priority when given the mandate
He said the NPP was a party that kept its promises and would therefore fulfil all the promises it had made during the campaign period when voted into power.
Mr Alan Kyeremanteng, a leading member of the party said he was optimistic of victory and indicated that people would used Sunday December 7 to thank the Almighty God.
He appealed to supporters not to relax in propagating the party's vision and policies to the public in order to enhance their chances of wining the elections one touch.
He said the NPP was ready to protect the people of Ghana against any form of violence and were therefore ready to apprehend any person would cause confusion. Mr Kyeremanteng appealed to members of the party to cast their vote in a peaceful manner and desist from any act that could mar peace.