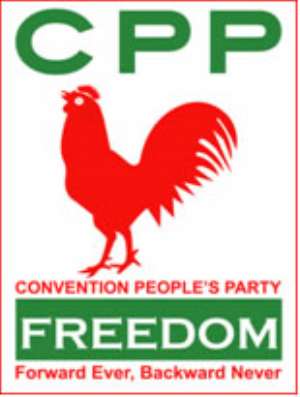 Another Parliamentary candidate of the Convention People's Party claims NPP executives have offered him money to induce him to abandon his parliamentary ambitions.
Emmanuel Kofi Boateng, contesting the Krachi East seat made the allegation at a rally at Dambai in the Volta Region.
He said those who made the offer wanted him to stop campaigning for the seat and declare his support for the NPP.
Mr. Boateng is the latest CPP candidate to make the allegation.
About four CPP candidates have claimed either the NDC or the NPP has approached them to step down and support their candidates.
Speaking to Joy News' Benjamin Tetteh, Mr. Boateng said pointed fingers at the NPP Constituency Organiser for attempting to bribe him out of contesting for the seat.
"The NPP Constituency Organiser came to us saying that they are ready to give us all that we have spent even if it is up to 300 or 400 million so that I step down".
He said some people had even misinformed the public that he had stepped down.
The CPP vice presidential candidate, Dr. Abu Sakara who attended the rally praised Mr. Boateng for his steadfastness.
"In every struggle there are difficulties, there are hurdles to overcome and we" must not allow anybody to steal victory from us, he said.
Story by Malik Abass Daabu