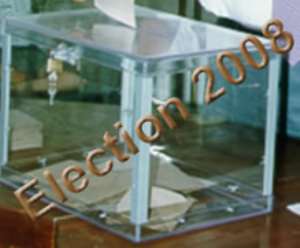 The International Press Centre in Accra will serve as an Election Relay Centre on December 7 where certified results from the Electoral Commission (EC) will be disseminated throughout the country.
Accordingly, the EC has agreed that all certified election results will first be sent to the International Press Centre for mass dissemination by journalists who will gather there.
Disclosing the details to the Daily Graphic, the General Secretary of the Ghana Journalists Association (GJA), Mr Bright Blewu, said apart from receiving certified results in hard copies, the EC would also use fax and e-mail services to send out the certified results.
Mr Blewu added that the GJA, in collaboration with the EC had put in place a working programme to facilitate the process of covering the December presidential and parliamentary elections by its members.
He said as part of efforts to make the Press Centre a resource centre, the association was making a request for 40 Information Services Department (ISD) information boards to display results for the presidential and parliamentary candidates.
This way, Mr Blewu said, the GJA would be working to encourage greater professionalism in the coverage of elections as well as help facilitate the electoral process to ensure transparency.
According to Mr Blewu, the association would invite foreign missions, press attachés, communication directors of the political parties, heads of civil society groups and any other individual stakeholders or institutions as observers.
He said the association would also request security protection at the Election Relay Centre throughout the election period.
To spice up the occasion, a vigil band would be present and according to Mr Blewu, the association had already secured sponsorship for refreshments.
He added that preparations towards election results display and monitoring were ongoing with Pro Info Interactive Limited which has a new system of projecting results.
The association would also organise the last press conference with the EC chairman dubbed "The Last Supper with EC" before the crucial elections on December 7.
"Recognising that democracy will be with us for a very long time to come, the association is doing all it can to encourage more professionalism in the coverage of elections", Mr Blewu said.
The association will accordingly set up a website — www.ghelectionshotline.org — for election purposes.
The website which will be run by International Institute for ICT Journalism and OSIWA Pens Plug Bytes would provide election news, analysis, features, facts and results.