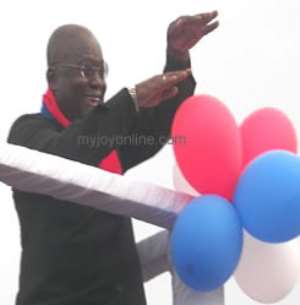 A nationwide opinion poll, conducted by the Primary Research Associates (P.R.A.), indicates that the 2008 presidential elections be decided by a first round victory.
The P.R.A. poll conducted between October 23 and November 2, 2008 puts the New Patriotic Party (NPP) candidate, Nana Akufo¬-Addo at 50.6%.
According to the polls, the candidate of the National Democratic Congress (NDC), Prof. John Evans' Atta Mills, will get 35.6%; Dr. Paa Kwesi Nduom of the Convention People's Party (CPP) - 7% and Dr. Edward Mahama of the People's National Convention (PNC), 2.l %.
With about 4.3% of voters undecided, the- remaining four presidential candidates will, according to the polls, be expected to get a total of 0.4% (less than 1%).
A breakdown of some results in the region indicates that in the Central Region, Nana Akufo-Addo is expected to get 55%, as against 24% by Prof. Mills. In this region, Dr. Nduom had 13%. In Eastern, Nana Akufo-Addo had 66.2%; Mills ¬21.7% and Nduom-6.7%.
In Greater Accra, Mills had 48.1 %; Nana Akufo-Addo - 35.3% and Nduom - 8.3%. In Ashanti, whilst Nana Akufo-Addo had a huge 76.4%, Mills was credited with only 14% and Nduom - 5.8%. Mills had an overwhelming 76.3% in the, Volta Region, followed by Nana - 15% and Nduom-2.3%.
Source: Dispatch