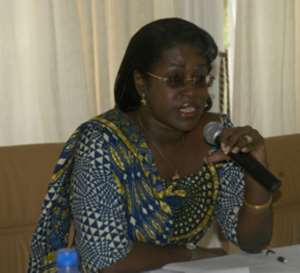 Tourism minister Mrs. Oboshie Sai-Cofie, has lauded the role of civil society organisations in Ghana and Africa as a whole.
Mr Sai-Cofie, who was speaking at the inauguration of a a 1.5 million-dollar office complex for the African Women's Development Fund (AWDF), said civil society groups have contributed immensely to the growth of society.
The office complex, which was funded by the organisation's endowment fund, has departments for fund raising and communications, grant-making and capacity building.
Speaking at the inauguration, Mrs. Oboshie Sai-Cofie, minister of tourism, urged stakeholders in the tourism industries to explore more avenues to help make the country's tourism sector a rich one.
She applauded the AWDF for its good work geared towards women empowerment adding that the initiative had enabled many other organisations and individuals particularly women to "stand on their two feet".
She noted that by putting up its own building, the AWDF had shown that women were capable of managing scarce resources.
Giving an overview of some of the activities of the AWDF, Madam Bisi Adeleye-Fayemi, a co-founder and the Vice person of the organisation, noted that it had been able to establish itself as a diverse and growing organisation.
It had also carved a niche for itself as an institution of professionalism, success and innovation.
"The establishment of an HIV/AIDS fund and campaign, creation of a capacity building unit to support our grant-making programs, the convening and hosting of the African Feminist Forum and partnering with institutions such as the African Union and the United Nations Economic Commission for Africa are just some of them."
She said AWDF had supported over 100 organisations in all the ten regions of the country with an amount of 1.5 million US dollars since it was established in 2001.
"Abantu for Development, the Network for Women's Rights in Ghana (NETRIGHT) and Women's Initiative for Self Empowerment (WISE) are just a few of them," she said.
The African Women Development Fund was established in Ghana in 2001 by Hilda Tadria, a Ugandan, Madam Joanna Foster a Ghanaian and Ms Bisi Adeleye-Fayemi a Nigerian with the sole aim of working to empower women in Africa.
Its thematic areas include Women's Human Rights, Peace-Building, Health and Reproductive Health and Economic and Political Empowerment.